Two more zebras die at Gazipur safari park, raising toll to 11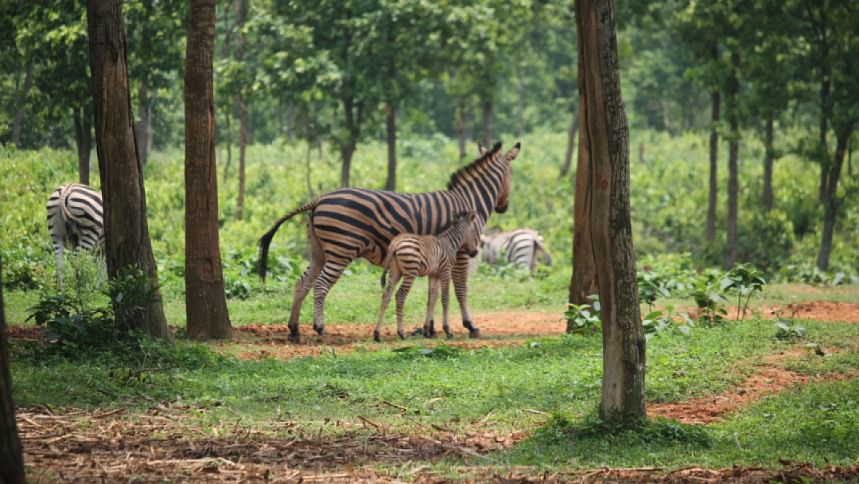 One more zebra died this evening at Bangabandhu Sheikh Mujib Safari Park in Gazipur, raising the number of deaths of zebras at the park in last one month to 11.
After the deaths of nine zebras within 22 days, two more also became ill with symptoms like inflated bowel, salivation and inability to walk. One died at around 6:00pm this evening while another, a female zebra, died this morning around 11:00am, said Tabir Rahman, in-charge of the park and also an assistant conservator of forests (ACF).
After the condition of the zebras deteriorated, the park authorities informed wild life experts and members of the medical board, including former curator at Dhaka Zoo Dr ABM Shahidullah, Prof Dr Rafiqul Alam of Bangladesh Agricultural University, Prof Abu Hadi Noor Ali Khan, among others. However, the zebra died before they could reach the park, ACF Tabir said.
Later in the day autopsy of the zebra was done and a meeting among the experts, medical board members and the project director is under way this evening, the official also said.
Also, one more member has been included to the five-member probe body formed after the death of the nine zebras previously, he added.
There are 70 animals, including the zebras, in the park's African Safari, which encompasses over a 60-acre area. Since the park opened, the number of animals in African Safari went up by threefold but the area remained the same, although the area also necessarily needs to be broadened three times, according to park sources.
Meanwhile, authorities have started incorporating the experts' recommendations following the death of the nine zebras earlier this month, including changing the animals' drinking water, providing food to those on trays, and administering some of those with vaccines and anti-worm medicines.
Between January 2 and January 24 this year, nine zebras died, including five from infectious disease and four from fighting among themselves.