Environment pollution: 2.15 lakh lives lost in Bangladesh in 2019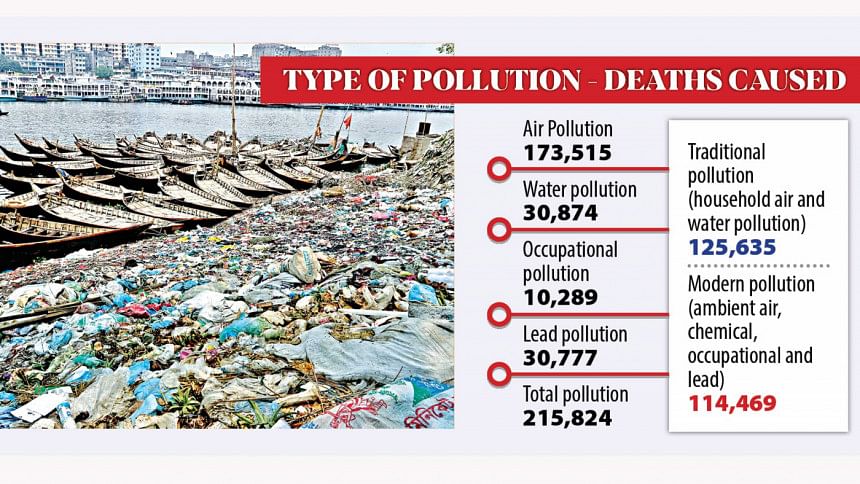 Pollution caused over 2.15 lakh premature deaths in Bangladesh in 2019, according to a new global study.
The poor air quality was the main contributor to such deaths while water and lead pollution and occupational hazards are the other causes, said the study published in medical journal The Lancet on Thursday.
Nearly 1.75 lakh people died due to air pollution alone while over 30,000 deaths occurred because of water pollution, said the study titled Pollution and Health: a Progress Update.
Pollution is directly linked to heart disease, cancer, respiratory problems, and other illnesses. 
The report said at least 215,824 died in 2019 due to air, water, and lead pollution and occupational hazards.
Bangladesh ranked sixth among countries seeing premature deaths due to pollution while India topped the list with 2,357,267 deaths.
Contacted, Niaz Ahmed Khan, professor at Department of Development Studies of Dhaka University, said, "It has almost become a philosophy that things like pollution should have to be accepted as collateral damage for the greater benefit of development. The situation has reached a level where the babies are paying the price even before they are born."
The former country director of IUCN added, "Considering the intensity of the problem, we seemed to be rather inadequately prepared and concerned."
The report was based on the data from the Global Burden of Diseases, Injuries and Risk Factors Study 2019 (GBD) which showed that pollution remained responsible for approximately nine million deaths a year globally.
"Pollution remains the world's largest environmental risk factor for disease and premature death, especially affecting low- and middle-income countries," reads the report.
Air pollution accounts for nearly 75 percent of the nine million deaths, it adds.
The World Bank in a report published in 2018 said around 234,000 were killed in Bangladesh in 2015 due to environmental pollution and associated health risks, making it one of the worst affected countries in the world.
The poor air quality of Bangladesh often makes global headlines due to fossil fuel combustion, biomass burning, emissions from  brick kilns and development works.
The World Air Quality Report 2020, released in March last year, said the average annual PM 2.5 concentrations in the country was 77.1 micrograms per cubic metre, which was more than two times the WHO recommended limit.
The entirety of Bangladesh's population was in areas that exceeded the annual WHO limit for the least stringent interim target of 35 micrograms per cubic metre, it said.
Abdullah Harun Chowdhury, professor of Environmental Science Discipline at Khulna University, said heavy metal pollution in recent years has become a serious concern as it is hazardous for the environment and human health.
Clinics and hospitals are mushrooming across the country and the queues of the patients are getting longer, he said. "All the people of the country are exposed to pollution. Those who tolerate it can survive and those who can't die.
"We know the sources of the pollution. We know the polluters, but in some cases, the polluters are so influential that actions are not taken against them."
He also blamed resource constraints and lack of technical expertise for pollution prevention.
The latest study found that over 90 percent of pollution related deaths occurred in low- and middle-income countries. The US ranked seventh with 142,883 deaths in 2019 while China reported almost 2.2 million deaths.
Globally, air pollution -- both ambient and household -- was responsible for 6.7 million deaths in 2019. Water pollution was responsible for 1.4 million deaths and lead pollution caused 900,000 premature deaths.
"The health impacts of pollution remain enormous, and low- and middle-income countries bear the brunt of this burden. Despite its enormous health, social and economic impacts, pollution prevention is largely overlooked in the international development agenda," said Richard Fuller, lead author of the study.