'You are killing us'
HC blasts DoE over air pollution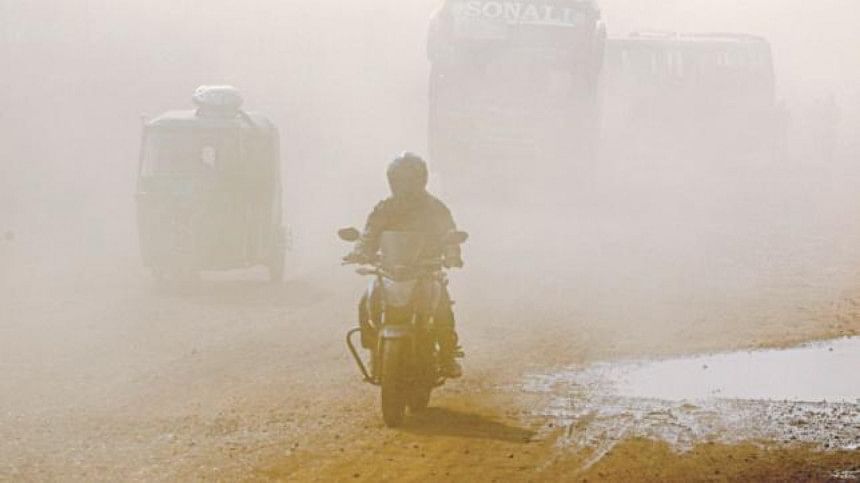 The High Court yesterday rebuked the Department of Environment for its inaction in curbing Dhaka's air pollution despite repeated directives.
"Air pollution in Dhaka was ranked highest in the world this [yesterday] morning too, though we had issued specific directives at different times to control it. There is no reflection of the directives.
"They [DoE officials] have the responsibility to control the pollution. They are neither abiding by the law, nor complying with the court orders … You are killing us by not curbing the air pollution, as it is bringing increased risks to the public health…," the HC bench of Justice KM Kamrul Kader and Justice Mohammad Ali told DoE lawyer Amatul Karim Swapna during the hearing on a writ petition.
Amatul had submitted a compliance report before the HC bench saying that the DoE has been conducting drives against the illegal brick kilns in order to control the air pollution despite a manpower crisis.
Last month, the DoE had demolished five illegal brick kilns and conducted seven drives against different air-polluting structures and fined them Tk 7.33 lakh.
A high-powered national committee, led by the cabinet, had also been formed in this regard, while steps have been taken to raise awareness regarding environmental pollution, the DoE lawyer said citing the compliance report.
Justice KM Kamrul Kader, of the bench, then said, "They (DoE officials) are paid crores of taka as salary, but there is no progress in preventing the pollution … The pharmaceutical companies in the country and India will benefit from the air pollution, as the companies can earn money by selling medicines, and India can earn money by treating the ailing people of Bangladesh due to such environment pollution."
The bench further said, "If there is no political will, no progress will take place … The public administration ministry could not assign magistrates to conduct mobile courts against the air polluters though there are reportedly a few hundred magistrates on deputation."
The court ordered all authorities concerned to comply with its earlier directives to bring the capital's air pollution in control within the next two weeks and fixed February 22 for passing further orders on this issue.
Lawyer Manzill Murshid appeared for the writ petitioner --Human Rights and Peace for Bangladesh, who had filed the petition in 2021 -- while Deputy Attorney General Abdullah Al Mahmud Bashar represented the state and lawyers Zobair Hossain Sajib and Md Shahidul Islam Sohag stood for Dhaka south city corporation during the hearing.