India allows Nepal to use its transmission line to sell power to Bangladesh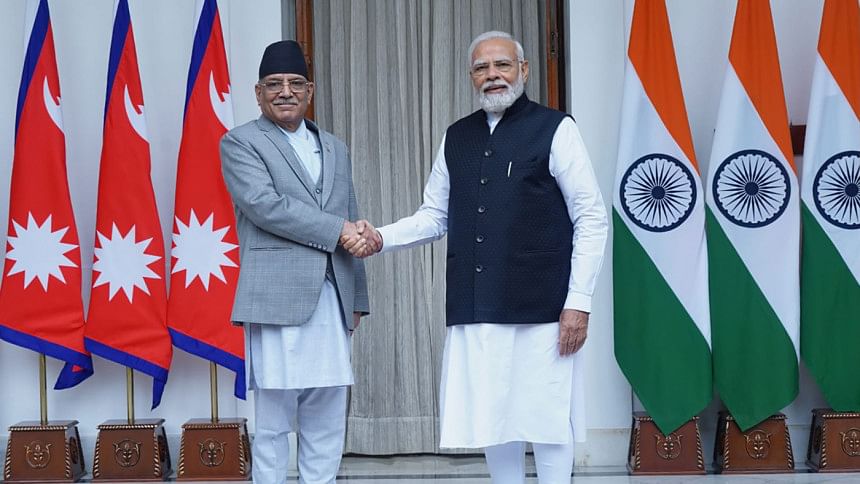 Nepal today got India's green signal for selling power to Bangladesh using the Indian transmission line.
The trilateral arrangement was agreed to by India for the first time, giving a boost to sub-regional cooperation in opening up power trade, reports our New Delhi correspondent.
The agreement was reached during talks between visiting Nepalese Prime Minister Pushpa Kumar Dahal and his Indian counterpart Narendra Modi in New Delhi.
"Our objective is that 40 megawatt of power from Nepal could transit through the Indian grid and go to Bangladesh," Indian Foreign Secretary Vinay Mohan Kwatra told the media.
Kwatra said hydropower cooperation "is a very important element of not just cooperation between India and other countries but the region as a whole. So, in this case, if you were to look at power cooperation, the same between India and Bangladesh stands on its own and India and Nepal have spoken extensively about it.
"There is an excellent opportunity to use power and power trade as a very important instrument of strengthening regional connectivity. This is the first effort in that direction," the Indian foreign secretary said.
Attending a joint press appearance with Indian Prime Minister Narendra Modi, Nepalese Prime Minister Pushpa Kamal Dahal said that the export of power from Nepal to Bangladesh will start soon and an agreement between India, Nepal and Bangladesh will be signed soon.
Nepal and Bangladesh have for quite some time pressed India to allow transit power trade in recent years and were waiting for the green signal from New Delhi.
Bangladesh Prime Minister Sheikh Hasina had raised the issue of importing power from Nepal and Bhutan through India during her official visit to New Delhi last September. The matter was also raised during Nepal Foreign Minister Narayan Prakash Saud's visit to Dhaka in mid-May when he urged Bangladeshi companies to invest in his country's hydropower sector.