As floodwaters recede, erosion begins at Brahmaputra-Teesta-Dharla rivers
Locals in Kurigram, Lalmonirhat now in distress due to erosion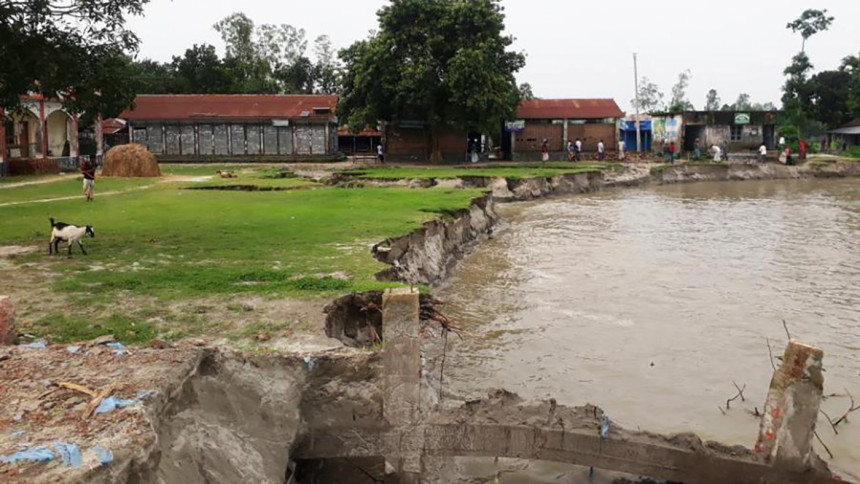 The flood situation has started improving in Kurigram and Lalmonirhat districts as the water level of major rivers is decreasing. However, this has led to a new issue.
The receding floodwaters have resulted in erosion in different parts of Brahmaputra, Teesta, Dharla, Dudhkumar and Gangadhar rivers.
Due to the erosion, homesteads, arable lands, orchards and various establishments are being washed away into the rivers.
According to the Water Development Board, river erosion has occurred in at least 80 places. However, no major erosion was seen at present. It is feared that river erosion may intensify in at least six to seven areas.
Flood-affected people start returning home
Flood-affected people, who were spending their days in various shelters including government roads, water development board dams and educational institutions, have started returning home.
Some areas on the banks of Brahmaputra and Dharla shoals in Kurigram are however still inundated.
Abdullah Al Mamun, executive engineer of the Kurigram Water Development Board, told the Daily Star that the overall flood situation in Kurigram is improving as the river water started receding.
He said there was no forecast of rising water levels at present.
Flood victim Maqbul Hossain, 65, of Char Purba Daikhawa on Brahmaputra River shoal in Ulipur upazila of Kurigram, told The Daily Star that they returned home this (June 24, 2022) morning as flood waters receded from their house. Due to the flood, they took shelter in a local primary school for 10 days.
Flood victim Serajul Islam, 58, of Teesta River Char Gokunda village in Lalmonirhat Sadar Upazila, said they had been on the government road for about seven days. He returned home this morning to find erosion has affected the areas from where water has receded.
Arable land and orchards are being lost to the river. Many homes are at risk of being washed away.
Zahurul Islam, principal of Nayarhat School and College in Chilmari upazila of Kurigram, told this newspaper that in the last two days, 60 per cent of the educational institute was washed away in the Brahmaputra River erosion. The rest is in danger of being lost to the river anytime. The education of more than 700 students has been disrupted due to this.
Kamruzzaman Sujan, chairman of Lalmonirhat Sadar Upazila Parishad, said a list of families affected by river erosion is being compiled. The government will provide financial assistance to these families, he said.