Climate Change Fallout: It's causing infectious diseases more
Says WB report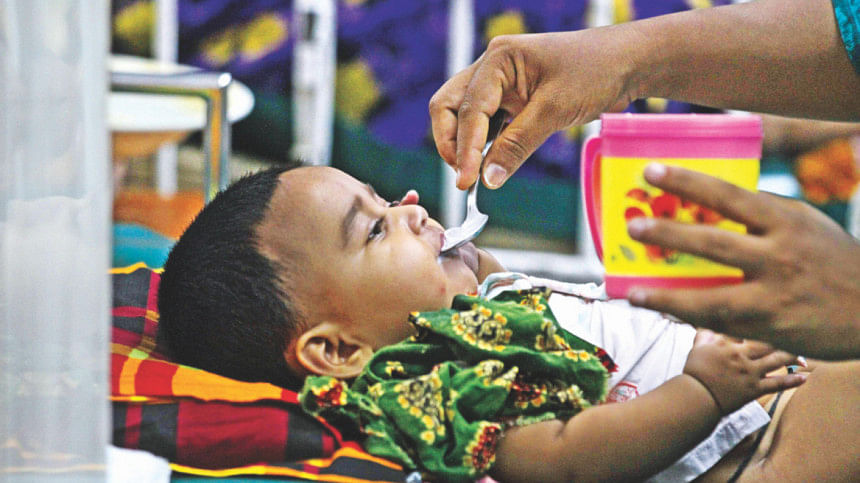 Distinct weather variations like hotter and longer summers, warmer winters and extended monsoon are leading to an increase in infectious diseases in Bangladesh, reveals a World Bank report released yesterday.
The weather patterns are also affecting mental health, especially of those living in big cities like Dhaka and Chattogram. The most vulnerable are children, the elderly and those with physical disabilities, the report said.
Titled "Climate Afflictions Report", it finds a link between shifting climatic conditions and the increase in respiratory, waterborne, and mosquito-borne diseases, as well as mental health issues.
It was prepared after gathering data from 15,000 people and 3,600 households throughout the monsoon and dry seasons.
The summers are getting hotter and longer, winters are warmer, and the monsoon season now spans from February to October, the report reads.
Bangladesh's temperature has increased by 0.5 degrees Celsius over the past 44 years and is predicted to rise by another 1.4 degrees by 2050.
The pattern of rainfall has also changed. The average monthly rainfall during the peak of monsoon -- from June to August -- has decreased by approximately 60mm. But between 1991 and 2019, the mean monthly rainfall during September to October has increased by 43mm.
The report further said, according to the survey done on 15,000 people, sickness among the people rises by 26 percent during monsoon. Respiratory infections also increase during the season with the rise in temperature and humidity.
With a 1-degree rise in temperature, 9.3 percent more people are likely to suffer from respiratory diseases, while for one percent increase in humidity, there may be a 12.5 percent increase in the number of such patients.
Adverse weather can cause mood swings too.
More cases of depression are reported during cold and dry seasons compared to the rainy season, the report says. However, anxiety disorders can become more prominent with an increase in temperature and humidity during monsoon. 
The reports further said erratic weather conditions played a key role in the 2019 dengue outbreak in Dhaka city, where 77 percent of the country's total dengue-related deaths occurred.
The report linked higher rainfall and humidity with dengue. It said that in 2019 Dhaka recorded more than three times the average rainfall in February, followed by higher temperature and humidity between March and July.
With further climate change predicted, more physical and mental health issues are likely to emerge.
The report further suggests that by strengthening healthcare systems, Bangladesh can deal with outbreaks of infectious and other climate-sensitive diseases.
Saber Hossain Chowdhury, chairman of the parliamentary standing committee on forest, environment and climate change ministry, said it is a study of immense value. It is giving a message to the world that the climate change has another dimension – that of physical and mental health.
It is not only about land degradation, rising sea levels or melting glaciers. The whole issue has to be seen from a public health perspective and we must act accordingly, he said.
Saleemul Haq, leading climate researcher, said, "We are entering an era of loss and damage due to human-induced climate change. The future is going to be worse unless we prevent it. Every day will be worse than the last. Rich or poor, every one will face it, so we need to prepare ourselves."
Going forward, Bangladesh can better track the evolution of climate-sensitive diseases by ensuring stronger data collection, said Iffat Mahmud, World Bank Senior Operations Officer and co-author of the report.