The untold tale of Farooque and Razzak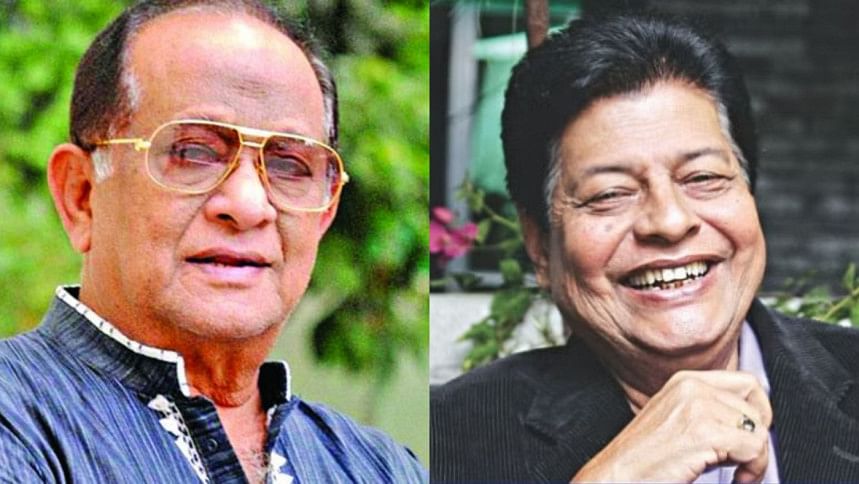 Legendary actor, Freedom Fighter and Member of Parliament, Akbar Hossain Pathan (Farooque) passed away earlier today. His death has cast a shadow of mourning in the film industry, as countless fans and colleagues remember the late legend.
On his 73rd birthday on August 18, 2018, Farooque—who is often called the 'Miya Bhai' of Bengali cinema—had shared an untold incident about Nayak Raj Razzak with The Daily Star.  The article originally appeared in The Daily Star on August 18, 2021. This very reporter had interviewed Farooque at the time.
Speaking to The Daily Star in 2018, Farooque had said, "During an event at Dhaka Club, Nayak Raj Razzak had attacked the famous entertainment journalist and writer, Ahmed Zaman Chowdhury. There was blunt force trauma and Ahmed Zaman was bleeding from his head after the incident. A police case was filed. Noted film personalities from that time like Khan Ataur Rahman, Narayan Ghosh Mita, Kazi Jahir tried to handle the situation, but to no avail."
"Soon, everyone was against Razzak and things were beginning to turn ugly. A group was planning to hand over Razzak bhai to the authorities. They wanted to end his career. At that time, if I had wanted to take revenge, I could have. Razzak bhai was my biggest competitor. However, I did not do that," shared Farooque.
He continued, "One day, Razzak bhai said to me, 'Farooque, save my honour.' He knew things were getting serious. I was sad, thinking about the fact that my colleagues wanted to take away the respect and dignity of one of our popular heroes. That is when I became more in touch with Azad Zaman. I would regularly check on him. On the third day after the incident, there was a lot of rain at night. After 12 at night, I called Razzak bhai to the Holy Family Hospital, where Azad Zaman was receiving treatment. They were both surprised to see each other. I had to do a lot of drama to reconcile them. A lot of people don't know about this incident and that I was behind this. I never let any harm come to Razzak bhai's reputation."
The two had worked together in three movies, "Erao Manush", "Ma-er Anchal", "Shakhi Tumi Kar?" Despite their age gap, they had always shared a deep friendship.
Farooque made his debut on the big screen with the film "Jolchhobi" in 1971. He would win the National Film Award for Best Supporting Actor in 1975. In 2016, he was bestowed with the Lifetime Achievement Award for his illustrious career.
Legendary actor Farooque passed away today, May 15, at 8:30 am, while undergoing treatment at a hospital in Singapore.