BOOK REVIEW: POETRY
Ahaduzzaman Mohammad Ali's 'Nakhshatra Nivey Jai': Poems well worth waiting for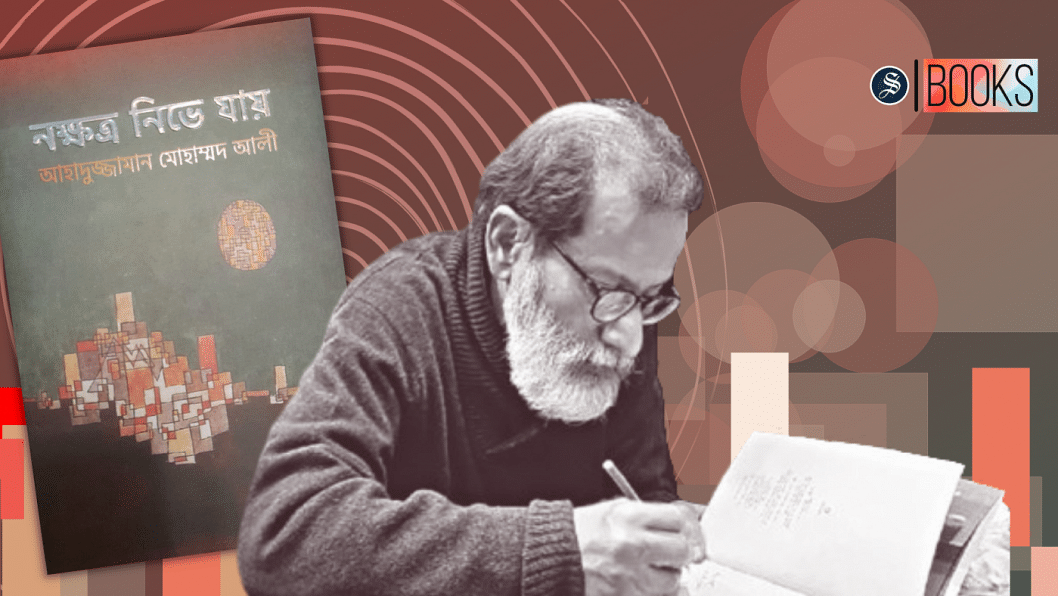 Ahaduzzaman Mohammad Ali's first book of poems came out more than two years ago. In reviewing it now, the first thing that comes to my mind is what Ralph Waldo Emerson wrote on July 21, 1855 to Walt Whitman. The poet had self-published Leaves of Grass earlier that year and then sent it to the apostle of American transcendentalism, Emerson. He had famously responded by writing to Whitman thus: "I greet you at the beginning of a great career, which yet must have had a long foreground somewhere, for such a start."
Only time will tell whether Ahad will have a great career as a poet or not, but when I finished reading Nakhshatra Nivey Jai (Anyaprakash, 2020), my immediate feeling was that this may be a very impressive debut volume and Ahad might be publishing his first book of verse in his mid-60s, but he must have immersed himself in the craft of poetry for a long, long time. For sure, he must have been writing poems on and off without thinking of publishing them till now to have produced verse of this quality in a debut volume.
Ahad's preface bears out this line of thought. He says there that he had been reading poetry all his life, written a few poems as juvenilia, and some more later, but for some time had never thought of publishing them. A teacher of Dhaka University's Department of Mass Communication and Journalism till June 2019, he goes on to say, he first presented his first poem publically in a departmental wall magazine at the requests of students three decades ago. What readers of Nakhshatra Nivey Jai come across, then, are thoughtful and feelingly written as well as delicately crafted poems by a mature poet who had honed his poetic skills over decades.
Ahad's book is divided into two parts. The first part, titled "Khoano Shabder Lesh" (Traces of Lost Words), begins in the elegiac mode. These poems are dedicated to his wife and departmental colleague Sitara Parvin, also once Professor of Mass Communications and Journalism at Dhaka University, who had tragically died in a car crash in the USA in 2005. The dedication and the title tell us how intense grief led Ahad to poetry. Indeed, readers will find in the opening poems of the book an intense and moving lyrical record of his feelings about their relationship after she had passed away.
The first two dozen poems or so of Nakhshatra Nivey Jai reveal the poet musing on the past and their relationship—from the spring days of courtship to seemingly inconsolable grief, to acceptance of a kind, and intensely felt hope of reunion in another world. Missing the loved one, yearning to be with her, feeling at times that he is all alone on an unending path, wanting his memory to continually refresh his stock of images of her, recalling the dreaded moment of the news that she is no more—these are all quite moving, poignant poems.
Midway into the first part of Nakhshatra Nivey Jai, however, we see the poet moving towards acceptance of the loss that had traumatized him so. He now resolves to depend on his memories of his loved one to cope with her absence. But he knows he has to go beyond grief and once again become part of the workaday world, which in his case means his academic career, the university he loves and students, whose liveliness can rejuvenate him. But here too there is a terminus, for he realizes he will have to face retirement yet again and sustain himself with memories then too!
The final poems of the first part of Nakhshatra Nivey Jai pay tribute to ancestor poets/artists he finds soul-stirring—Rabindranath and Nazrul, as well as Lorca and Neruda. But revisiting his memory's spacious corridor in verse, he also remembers gratefully his mother and father for shaping his sensibility. Images of Dhaka and Leeds—cities he has made parts of him—also haunt the poet. However, in the final poems of this part he is back with the memory that has overwhelmed him most and that he will treasure forever—his dear, departed wife!
The second part of Nakhshatra Nivey Jai, "Shok Ar Drohar Shlok" contrasts markedly with the first one. Here Ahad seems to have moved, so to speak, from home to the world—a world of people pained, shattered, disillusioned. It is a world full of blood spilled in streets, consumer society excesses of a few, and hardship and deprivation faced by the many. Nevertheless, the poet finds here selfless people as well—dreaming, sacrificing themselves. The world here includes diasporic people or imprisoned, wretched men and women. These are poems where Ahad empathizes with the many and regrets the abuses and abusers he has observed taking place inside and outside his country. A series of poems also reflect his ecological sensitivity to the machine in the garden and snakes and hyenas imperiling forests and rivers and Dhaka—the city he has lived in for most of his life. He has poems as well reflecting his secular, democratic feelings.
Ahad's debut volume thus reflects a mature poetic sensibility and a poet in complete control of his craft. These are immensely readable poems ranging over themes we can all empathize with. They are lyrical as well as thought provoking. Readers will surely feel these are poems that were worth waiting for!
Fakrul Alam is Supernumerary Professor, Department of English, University of Dhaka.