Online memorial service for publisher emeritus Mohiuddin Ahmed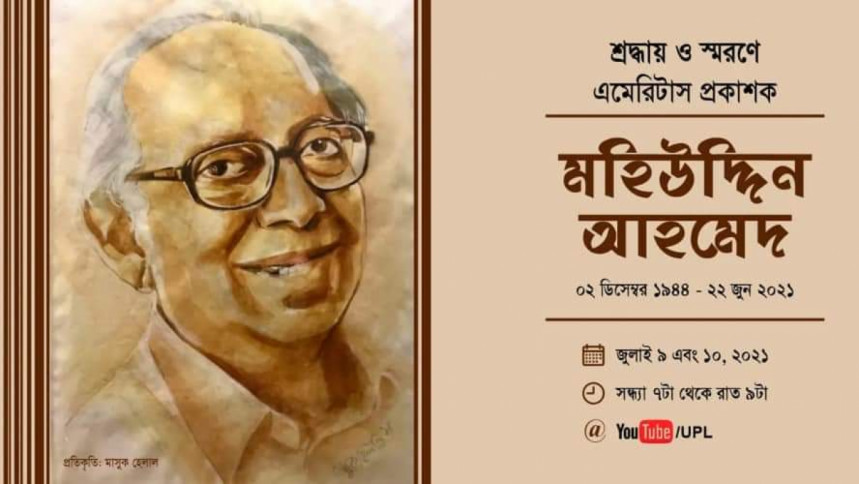 The first of the two-day memorial service for publisher emeritus Mohiuddin Ahmed was held at 7 PM on July 9. Family, friends, colleagues, and notable admirers gathered virtually to pay their respects to the late, great founder of the pioneering University Press Limited.
Eldest daughter, and present-CEO of UPL, Mahrukh Mohiuddin inaugurated the event and served as master of ceremonies for the opening hour. "UPL was his first child", she said at the end of her introductory speech, a proud smile breaking through. "And I happened to be his second child, and other siblings followed".
As the ceremony carried on and more speakers took to the proverbial stage, a clear image of the late Ahmed was outlined—one of strength, determination; a man of great capacity, who loved and moved so much and so many.
Among the guests were economist and member of the United Nations Committee for Development Policy, Wahiduddin Mahmud, who lovingly recalled his wife's fondness for calling Ahmed a "dinosaur"—"a rare species in the publishing industry—in fact, the only one of his kind."
The individuality of Mohiuddin Ahmed is, of course, one known well in the publishing industry. Political scientist and CPD Distinguished Fellow Professor, Rounaq Jahan, by taking us to their first meeting in 1972, recalls the many characteristics that define the publishing great. "Here is a very dynamic person", she thought that first meeting. "He was a straight-talking, straight shooter", whose self-confidence inspired in authors belief in the publishing house. His proactivity, his seeking out of authors, topics, themes, as touched upon by near-all the speakers, was a drive unparalleled in the country. "He was the only truly professional publisher", Jahan declared.
So beloved was Ahmed that a common recurrence, a shared deviation, throughout the night was the speakers' speech going well over the two-minute limit set before the ceremony's commencement. "When we talk about Mohiuddin Bhai, it becomes very difficult", shared reputed activist, feminist, and personal friend, Khushi Kabir, whose emotional speech ran lovingly long. Kabir was admittedly one of the few speakers who knew Ahmed not as a colleague, but simply on a personal basis. Academic, writer, and publisher Niaz Zaman similarly spoke of the UPL founder "not only as a publisher, but as a friend". Hers was a speech heartfelt and striking. Echoing Mahrukh's earlier sentiment, Zaman felt that the publishing house was looked after by Ahmed with the care and dedication one reserves for a firstborn child—a depth of devotion equally shown for his wife, psychologist Dr Mehtab Khanam, and their three children.
Youngest daughter, Shamarukh Mohiuddin, taking over as master of ceremonies for the second half, introduced Nobel laureate Dr Muhammad Yunus. Dr Yunus and Ahmed held a great deal of respect for one another, he shared, and the pair had even belonged to the same school early on in their lives in Chattogram, which the publisher never let him forget.
Several other luminaries spoke in the three-hour event, from heads of departments of Dhaka University to a former consul general of Pakistan. Several guests participated from overseas, like author-anthropologist Thérèse Blanchet, Italy-based writer and poet Ahmed Sobhan Neeman, and Emeritus Professor at the University of Bath, Dr Geoff Wood, a close associate of Ahmed's over many years, who saw the occasion as "an opportunity to celebrate a wonderful man."
To Wood's solemn statement, Ambassador Salahuddin Chaudhry later added: "We celebrate what Mohiuddin left; we celebrate Mohiuddin Ahmed, publisher par excellence."
Mehrul Bari S Chowdhury is a writer, poet, and artist. His work has appeared in Blood Orange Review, Kitaab, and Sortes Magazine, among others. He is currently the intern at Daily Star Books.