'Nusrat Fateh Ali Khan: Le messager du qawwali' launched at AFD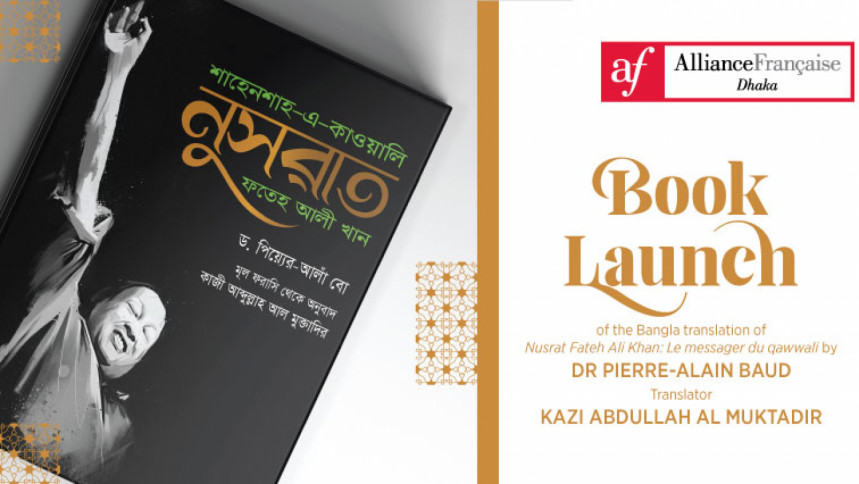 The Bangla translation of Nusrat Fateh Ali Khan: Le Messager du Qawwali by Dr Pierre-Alain Baud was launched on Friday, September 16, at La Galerie of Alliance Française de Dhaka. The book, published by Pathak Shamabesh, has been translated from French to Bangla by Kazi Abdullah Al Muktadir.
Dr Pierre-Alain Baud, a music researcher by profession, spent more than 10 years working closely with Nusrat Fateh Ali Khan, keenly observing his music. The man with the enchanted voice, Khan, expertly recorded over 300 albums, which have amassed millions of sales. In his attempt towards promoting the teachings of the Sufi mystics and poets, he popularised Sufi music on a global scale. This book contains a firsthand description of the life of the great qawwal as observed by Dr Baud, who spent a significant amount of time in Khan's company. 
"I deeply admire Mr Khan for his glorious contribution to the music industry. Despite all the cultural differences, his songs resonate with everyone. I remember being mesmerised after witnessing his magic for the first time back home", he shared. Before being translated into Bangla, the book was first released in French in France, followed by Urdu in Pakistan, and English in India. Prior to its translation, the book gained popularity among the Bangladeshi audience, particularly due to the cultural infusion of music amidst these regions.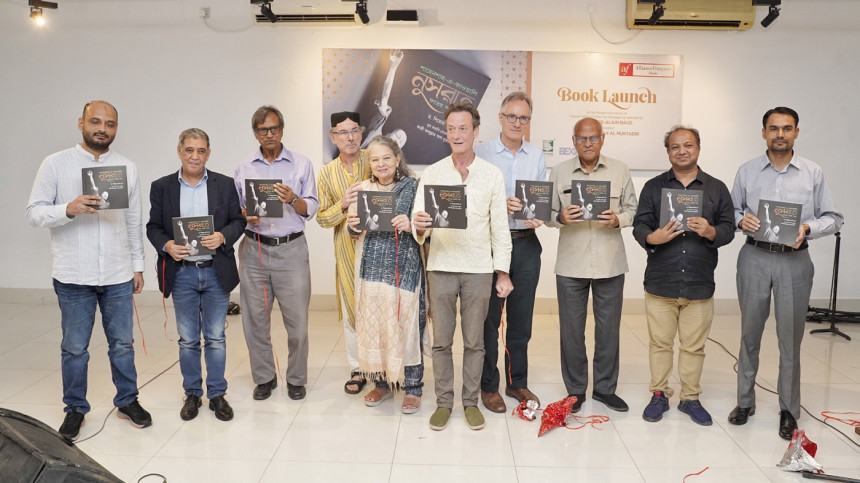 The translator, Kazi Abdullah Al Muktadir, studied English Language and Literature while learning French as a hobby. He began his career by working for Alliance Française, which offered him the opportunity to hone his professional translation skills. He has been successful as a French instructor, translator, and interpreter both domestically and internationally and is currently working as the Administrative Manager at the French Embassy, Bangladesh. 
"I took up the tedious task of translating this book out of my admiration for Nusrat Fateh Ali Khan and his music. I faced several obstacles but his music made it easy. I would take this moment to thank D. Baud for his endless support. Also, thanks to my father—he proof-read the copies patiently, and my wife for never letting me give up", he said during his speech.
A number of movies depicting the life of Nusrat Fateh Ali Khan were showcased at Auditorium Nouvelle Vague, prior to the book launch. During the inauguration, Professor Kaiser Haq, a renowned poet, shared his words of wisdom. "Sufism has a very important role in the cultural history of Bangladesh. While it has taken several other forms, we can still find qawwali in certain Old Dhaka pockets. Nusrat Fateh Ali Khan has greatly popularised this form of music and helped it achieve global acclaim. This book would further support the cause by enlightening the readers with a greater understanding of the art of Mr Khan."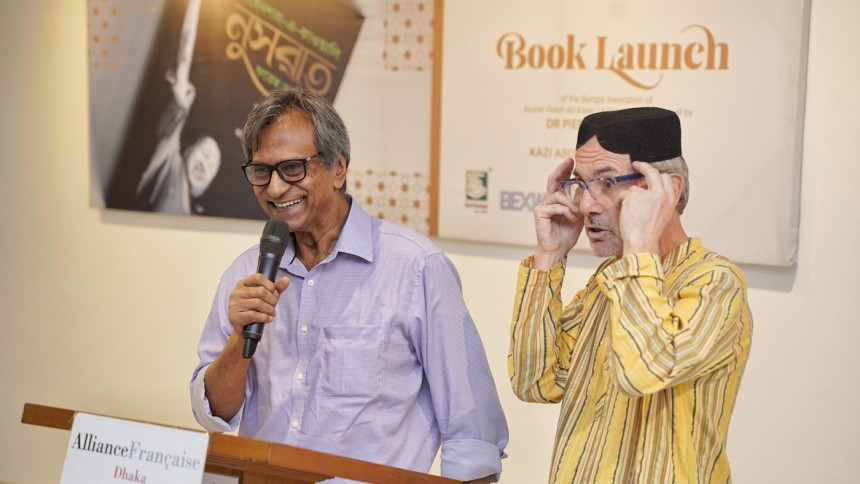 He further urged young writers to explore the lives and works of prominent Bangladeshi musicians, to highlight their talent and journeys. The event was a remarkable gathering of music enthusiasts from all walks of life, as exhibited by an overwhelming crowd and the copies of the book selling out fast. 
The infamous lalon singer, Farida Parveen, engaged the audience with a few songs while she discussed the parallels and differences between lalon and Sufism. Finally, a group of baul singers performed to round off the celebration. "Nusrat Fateh Ali Khan is regarded as the lord of Sufi music and I appreciate the effort put by the author to capture the illustrious life of the musician. It would help us preserve an important part of history", shared Sagor Dewan, one of the performers. 
Maisha Islam Monamee is a student of IBA, DU, and a freelance journalist who likes reading, scribbling, and blogging. Follow @monameereads on Instagram.