Philanthropy: A beacon of hope for Bangladesh
Mission Save Bangladesh, BANCAT and Dekko ISHO lead by example
As the Covid-19 pandemic continues its spread with more than 2.7 million confirmed cases in 185 countries so far, it has made some professions much more dangerous, especially in the health sector.
While consistent use of personal protective equipment (PPE), such as N95 medical masks, reduces the risk for health workers to become infected with the new coronavirus, PPE is in short supply in many places.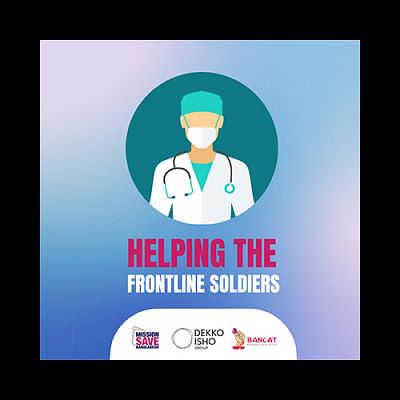 Still, healthcare professionals in Bangladesh and across the globe are working against all odds, risking their lives every day to protect and serve their nations.
Our frontline soldiers, including nurses, doctors, respiratory therapists, and many others, are at a higher risk of becoming infected with Covid-19, especially due to inadequate PPE supply.
But the country's private sector has committed to certain best practices in addressing the current Covid-19 situation, keeping people's safety and wellbeing, including that of our healthcare professionals, at the heart of its business operations with a philanthropic perspective.
'Mission Save Bangladesh' is one such philanthropic initiative formed from a sense of mutual responsibility, are providing coronavirus preventive materials and distributing PPE to hospitals to support the frontline soldiers of the pandemic.
Another such platform is Bangladesh Cancer Aid Trust (BANCAT), dedicated in standing beside those fighting cancer, and has also been distributing grade-1 PPE, N95 masks, and safety goggles to health workers.
Although 'Mission Save Bangladesh' is a collaboration between Sheba.xyz, The Daily Star, and Samakal, other organisations have joined hands with the initiative to serve the society.
Dekko ISHO Group, a diversified business conglomerate, has provided 'Mission Save Bangladesh' with high-quality PPE, N95 masks, and safety goggles that are being distributed to hospitals across the country. The medical equipment have been distributed to frontline institutions such as Bangabandhu Sheikh Mujib Medical Hospital (BSMMU), Dhaka Medical College Hospital (DMCH) and Dhaka Shishu Hospital, and also hospitals and clinics in Chadpur, Noakhali and a number of remote areas.
M Shahid Hossain, chairman of Dekko ISHO Group, mentioned that the priority is to ensure these medical supplies and equipment reach the most vulnerable who are living in remote locations across the country. These are communities that are less equipped and unable to fight a virus outbreak.
During this trying time, philanthropic initiatives like these are helping our frontline soldiers and have become a beacon of hope in our fight against the pandemic. Beneficiaries such as these urgently need more support now to give us a fighting chance.
Beside the government and the private sector playing their parts in addressing the ongoing crisis, individuals can also be the beacon of hope by making a donation today and ensure that the frontline responders can continue to receive much-needed support.
It is essential to note that, Bangladesh suffers from both a shortage of and geographic misdistribution of healthcare professionals. There are an estimated 3.05 physicians and 1.07 nurses per 10,000 people (estimates based on MoHFW HRD 2011).
In that context and to stand beside the heroes of the nation who are serving against all odds by risking it all, it is essential to protect and support them, since we rely on them now more than ever.
With everyone's help, many of them can have hope to make it through these difficult times.