Sajal's success in biofloc fish farming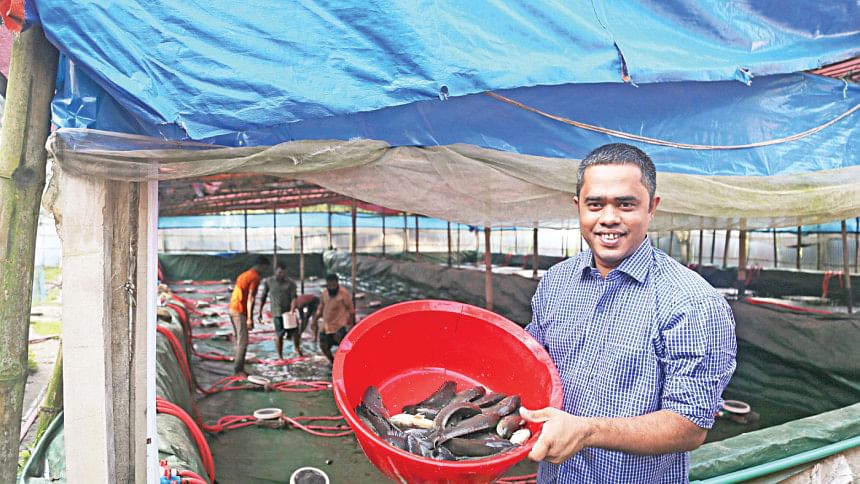 Needless to say that the young entrepreneurs, engaged in fish farming, are quite vocal and active nowadays. It's not just that they are interested enough in using the modern technology, they are also more determined in using the technologies. Today, I would like to share with you the success of another young man in technology-based fish farming.
At the end of October this year, I went to the northern region of the country. It was the pre-winter season and the vehicle was hearing towards Panchagarh's Atwari upazila. Green paddies on the vast fields, as far as your eyes can travel. Finally, I reached my destination. I went there to meet a young biofloc fish farming entrepreneur, Shahriar Kabir Sajal. He had a dream of getting involved in productive activities after completing his studies. Back in 2015, he became very interested in fish farming by watching a Hridoye Mati O Manush (Soil & People) episode on aquaponics fish farming. Afterwards, researching different spheres, Sajal started fish farming using aquaponics method.
Primarily, he did not succeed in the journey, but his relentless efforts to bring success continued. The question is how to use the tanks used in aquaponics. It was during this time that he discovered biofloc farming. He came back from Kerala, India with training on biofloc and geared up his fish farming. The news of Sajal's biofloc project came to me a couple of years back. 
Let me remind you my dear readers: it has not been possible to decide on a reliable biofloc strategy yet. Individual entrepreneurs are claiming to be successful but that's a specific claim. The training and teaching trade of the biofloc system is the most widespread issue now and it has turned into pretty much commercial. One more issue needs to be clear, fish farming with biofloc method is a science-based method. It would not be right to go into a large investment without being fully proficient in the subject which is intertwined strictly with science and needs special knowledge and skills before entering the sector, aiming to be commercially successful. Sajal claims he has researched various technologies of fish farming. A biofloc fish farming project has been set up at his backyard. The aforesaid technology has been applied in various tanks and ponds. In all, he is cultivating fish in 25 lakh litres of water.
Most of the young entrepreneurs are experimenting with biofloc. Zahirul from Narayanganj, Romel from Comilla and Ashraf from Mymensingh are all trying their very best to make the best use of the biofloc technology to bring the ultimate commercial success. In the meantime, I am getting news of many initiatives of this technology all over the country. Entrepreneur Sajal is not only farming fish, he is also conducting various experiments to make the biofloc method sustainable. Especially in this method, what kind of fish, in what way or in what season can be farmed, is his predominant focus. What is the right way to use probiotics? He also has detailed research on these. The biggest thing is that he does not want to count losses in fish production. All his efforts are to ensure production and reduce production costs. Not only this, with the help of biofloc technology in the pond, he has achieved remarkable accomplishment. Sajal also claims the application of biofloc technology in the pond was first initiated by him in Bangladesh.
It is a small pond under a shade called 'Pond Culture.' Tilapia is being cultivated in 50,000 litres of water in a small pond built on one and a half decimals of land. I have not seen this strategy of Sajal anywhere else. Others have built tanks using cement or plastic paper. Sajal has made this pond with sandbags and Korean PVC coated plastic covers. Sajal said it is possible to produce 2,800 to 3,000 kg fish in a space of only 30 feet by 18 feet. It will cost Tk 70,000 (USD 826) in four months. Sajal said he would be able to sell fish, worth at least Tk 3 lakh (USD 3540.78). He gave also gave an information that if it is farmed in biofloc method, the fish is auto-graded. Due to the high density of fish, some fish cannot grow in the same size at the same period. That is why there are three sizes of fishes at Sajal's biofloc project.
Three large cement tanks were spotted at Sajal's biofloc farm. His first aquaponics venture started with these three cement tanks. Now it is being used in biofloc project. One tank is farming Vietnamese koi. Three and a half months back, Sajal released the fish fries in his tanks. Now, the weight of three koi fishes is around one kg. I also saw a greenhouse. Sajal said it was an aquaponics method of fish farming in the greenhouse, which has now been changed into biofloc. Tilapia is being cultivated on one side and Rupchanda on the other. Sajal says, if success is found in Rupchanda, a new success will be added to the biofloc method.
Vietnamese koi is being cultivated in two ponds, nearby the tanks. He is netting fish for the third time. Koi fishes worth Tk 6 lakh (USD 7081.57) has already been sold from the ponds. Sajal spent around Tk 2 lakh (USD 2360.52). I looked at the diffusers at the bottom of the pond. How these controls oxygen in the water, I had a chat about it with Sajal. The mind becomes enchanted, seeing the sizes of fresh fishes. Feels like all the fish here came from freshwater. These fishes are sold quickly for their colour and taste.
Sajal's success is probably right here. He has been able to ensure quality production and sales. The fish produced by him is very much acceptable to the buyers and consumers. In the last four years, with his persistent work, intelligence and dedication, he has invested little by little and made a profit of millions of dollars. Sajal also had to face many obstacles while growing up in the far north of the country. But his mother Shamsunnahar provided the highest inspiration to his son that he would certainly be able to survive with fish farming. With such encouragement from his mother and following the inspirational agricultural videos of Hridoye Mati O Manush, Sajal looks even far to take biofloc technology to another level for the development of fish farming in Bangladesh.
Success requires promise, sincerity and devotion and we find these attributes in every entrepreneur behind the agricultural success of the country. In this regard, Sajal is also an extraordinary entrepreneur. Bangladeshi youths are very interested in biofloc technology. The positive vibe of biofloc is flowing across Bangladesh. Government's fisheries research institutes should look at how scientific the biofloc is, and how profitable this method is in fish farming in real terms; what are the odds and how a farmer can overcome it to move onward. I believe those who have been involved in technology-based farming activities in different parts of the nation with true loyalty, are certainly playing a pivotal role, not only in bringing their financial success, but also in the development of the country's comprehensive economy.