A noble initiative for fishermen's literacy
Volunteers set up 'Jele Bidyaloy' in remote Bhola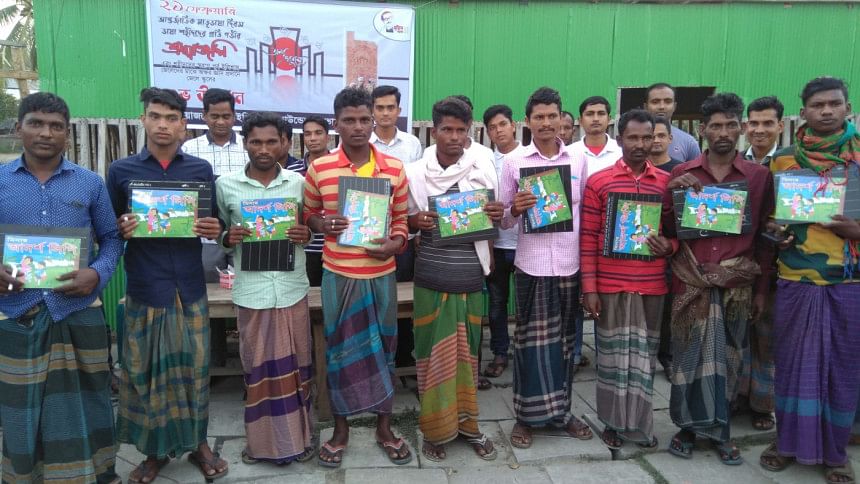 Fishermen of Elisha village and nearby areas in Bhola Sadar upazila can now aspire to be literate as a group of local youths under the banner of East Elisha Foundation, a voluntary organisation, started a school for them.The school named 'Jele Bidyaloy' (school for fishermen) saw opening on February 21, the International Mother Language Day, on the bank of the Meghna River near Elisha Ferry Ghat, a site for anchoring trawlers. Twenty-two fishermen, who attended the introductory discussion and maiden lessons, showed keen interest in learning.  
Following instructions from the voluntary teachers, they read aloud from a book on primary literacy and wrote a few letters with chalks at the set-up made with wood and bamboo.  "We had been planning for long to spread the light of education among the illiterate fishermen. Finally we succeeded in starting the modest school in the month of the Language Movement," said Anwar Hossain, president of the foundation comprising mostly students."Every Friday, they will come here to learn basic literacy and numeracy at their leisure time as we have arranged the lessons for free," he said. 
Abdur Rahim from Elisha, who is engaged in fishing for around 20 years, is one of the students of the school.
"Earlier it was beyond my imagination that I would get the chance to learn how to read and write. Now they (voluntary teachers) have opened a good opportunity for us. After learning barnamala [Bangla alphabet], I will first write my name and that of the motherland," said Rahim.   "We are grateful to the foundation for giving us such an opportunity. If we learn how to read and write and count properly, it will be helpful for our trade. Often we have to depend on others for counting cash and fish, especially when the amounts are big," said fishermen Hasan.    "Now we have a school. I want to take lessons here during the gaps between fishing periods," said fisherman Bulbul, another student of the school. Fishermen have to pass two to three months without work every year, and the time can be used for gaining literacy, said several fishermen.