Coronavirus pandemic: vehicle going door to door to collect samples in Tangail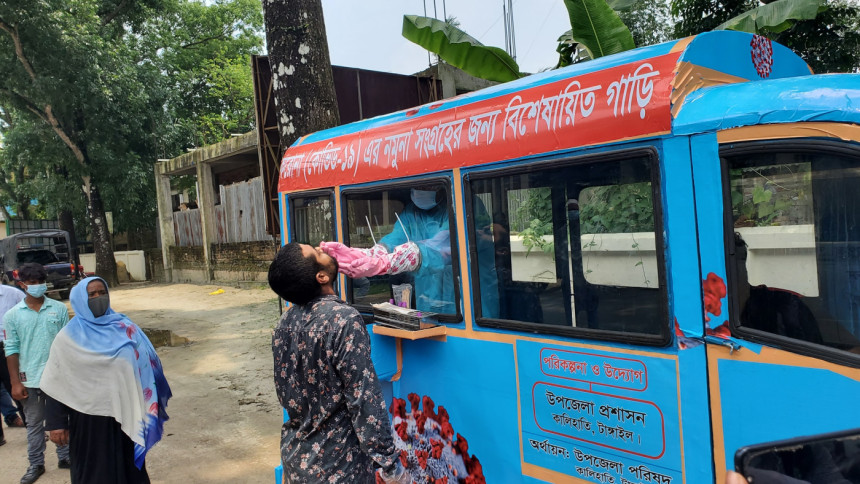 A specialised vehicle has started going door to door in Tangail's Kalihati upazila to collect samples for coronavirus testing.
The sample collection process is completed without anyone having to get in or out of the vehicle.
The upazila administration transformed a battery-run easy bike into a mobile sample collection vehicle for Tk 3 lakhs, said Upazila Nirbahi Officer Shamim Ara Nipa.
At least fifty samples can be collected in a day, she added.  
Collection of samples using the mobile vehicle started formally under the upazila's health department on Thursday afternoon after lawmaker Hasan Imam Khan inaugurated it.
Covered with glass, the vehicle is specially made so that samples can be collected with minimal contact, said Anisur Rahman, technologist of Kalihati Upazila Health Complex.
"There is full arrangement inside the vehicle for collecting samples without having to go outside. And now people don't have to risk going to the hospital to give their samples," said Upazila Health and Family Planning Officer Dr Mohammad Saidur Rahman.
People suspecting a likely case of coronavirus infection can call the upazila health complex to get their samples collected. Sometimes, if a confirmed Covid-19 patient dies, the vehicle also goes and collects samples from the family members, Saidur added.
Collection of samples also continues at the premises of the health complex.