UN appeals for aid as Rohingya refugee exodus nears 300,000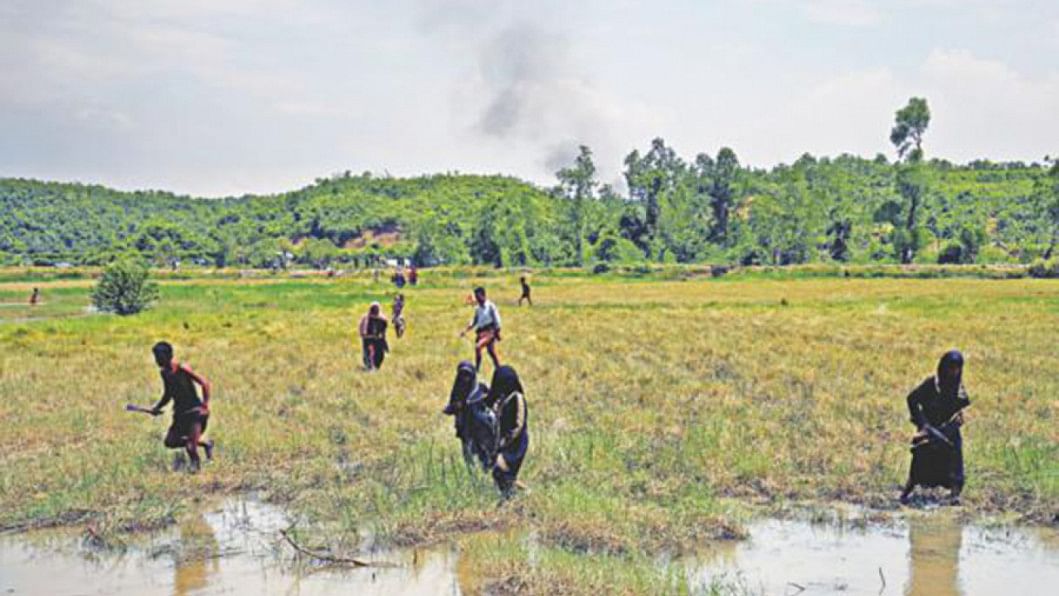 The United Nations has appealed for aid to deal with a humanitarian crisis unfolding in southern Bangladesh after the number of Muslim Rohingya fleeing Myanmar neared 300,000, just two weeks after violence erupted there.
The wave of hungry and traumatised refugees is "showing no signs of stopping", overwhelming agencies in the Cox's Bazar region already helping hundreds of thousands displaced by previous spasms of conflict in Myanmar's Rakhine state, the UN said.
"It is vital that aid agencies working in Cox's Bazar have the resources they need to provide emergency assistance to incredibly vulnerable people who have been forced to flee their homes and have arrived in Bangladesh with nothing," the UN Resident Coordinator in Bangladesh Robert Watkins said.
He said in a statement late on Saturday that agencies urgently needed $77 million to cope with an emergency that was triggered when Rohingya insurgents attacked police posts and an army base on Aug. 25, prompting a military counter-offensive.
The Arakan Rohingya Salvation Army (ARSA) insurgent group declared a month-long unilateral ceasefire, starting on Sunday, to enable aid groups bring humanitarian aid to those still in the northwestern state of Buddhist-majority Myanmar.
The impact of ARSA's move is unclear, but it does not appear to have been able to put up significant resistance against the military force unleashed in Rakhine state, where thousands of homes have been burned down and dozens of villages destroyed.
Thousands of displaced people in Rakhine have been stranded or left without food for weeks. Many are still trying to cross mountains, dense bush and rice fields to reach Bangladesh.
Red Cross organisations are scaling up their operations in Rakhine after the UN had to suspend activities there following government suggestions that its agency had supported the insurgents. The UN has evacuated non-critical staff from the area over the past two weeks.
VILLAGES BURNT DOWN
In its ceasefire statement, ARSA called on the military to lay down arms and allow humanitarian aid to all affected people.
Myanmar says its security forces are carrying out clearance operations to defend against ARSA, which the government has declared a terrorist organisation.
Rights monitors and fleeing Rohingya say the army and Rakhine Buddhist vigilantes have mounted a campaign of arson aimed at driving out the Muslim population.
About a dozen Muslim villages were burned down on Friday and Saturday in the ethnically mixed Rathedaung region of Rakhine, two sources monitoring the situation said.
"Slowly, one after another, villages are being burnt down - I believe that Rohingyas are already wiped out completely from Rathedaung," said one of the sources, Chris Lewa of the Rohingya monitoring group the Arakan Project.
It was unclear who set fire to the villages, located in a part of northwest Myanmar far from where the insurgents launched their attacks last month. Independent journalists are not allowed into the area.
Three Rohingya were killed by landmines on Saturday as they tried to cross from Myanmar, a Bangladeshi border guard said, and an official with a non-government organisation said two more were injured on Sunday.
In Cox's Bazar, a Reuters reporter saw about 40 Rohingya, mainly women and children, arriving early on Sunday after a four-day trek and then a border crossing by fishing boat.
"The sea was very rough but we made it here somehow," said 25-year-old Rashidullah, one of the group that was looking for temporary shelter on the beach in an area where there is no room left in refugee camps.
The International Crisis Group said in a report that the strife in Rakhine is causing more than a humanitarian crisis.
"It is also driving up the risks that the country's five-year-old transition from military rule will stumble, that Rohingya communities will be radicalised, and that regional stability will be weakened," it said.
Myanmar leader Aung San Suu Kyi has come under international pressure to halt the violence. Critics complain that Suu Kyi, who won a Nobel peace prize in 1991 for championing democracy, has failed to speak out for a minority of her country that has long complained of persecution.