Hasina receives Champions of the Earth award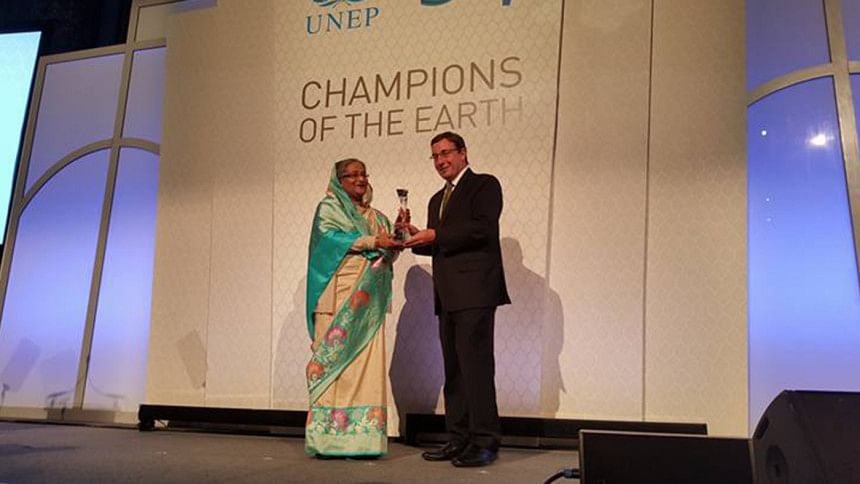 Prime Minister Sheikh Hasina has received UN's highest environmental accolade – Champions of the Earth – in recognition of Bangladesh's far-reaching initiatives to address climate change.
United Nations Environment Programme (Unep) Executive Director Achim Steiner handed over the prestigious award to Hasina in the policy leadership category at United Nations headquarters in New York yesterday, Bangla daily Prothom Alo reports.
Through the award Unep recognises Bangladesh's first-off-the-block initiatives under Hasina's government to prepare the ecologically fragile country for the challenges it faces from climate change.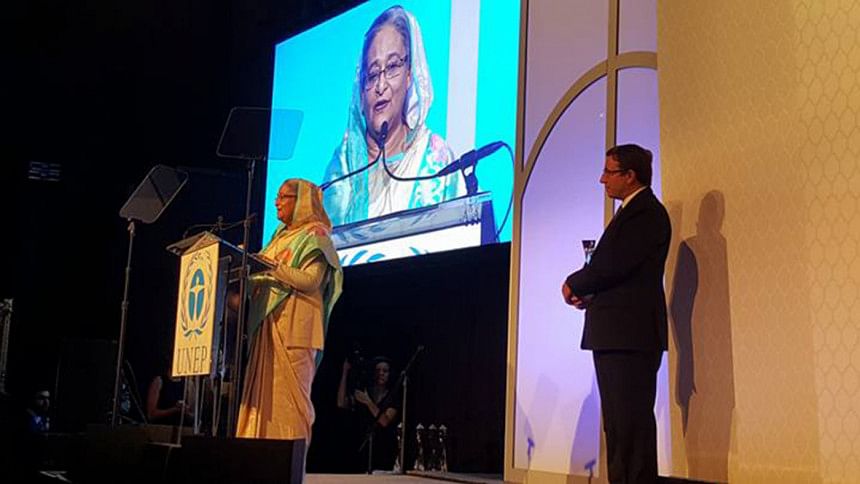 The annual Champions of the Earth award is the highest environmental accolade that the United Nations can confer upon outstanding individuals and organisations. Previous laureates of this inclusive award range from leaders of nations to grassroots activists – all visionaries whose leadership and actions drive the world ever closer to its aspirations of environmental sustainability and a life of dignity for all. To date, the Champions of the Earth has recognised 67 laureates in the categories of policy, science, business and civil society.
The other winners named so far are the National Geographic Society (Science and Innovation); Brazilian cosmetics firm Natura (Entrepreneurial Vision); and South Africa's Black Mamba Anti-Poaching Unit (Inspiration and Action).