Road crash victims' mother, wife join demo in Rajshahi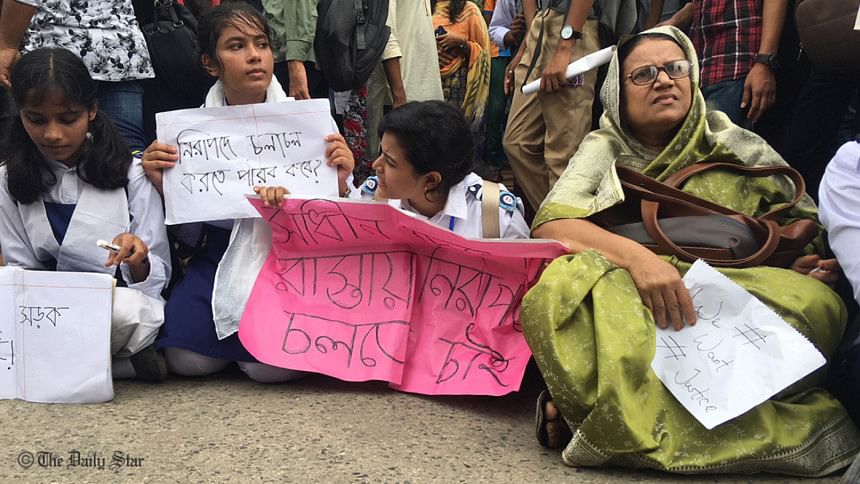 A wife who lost her husband in an accident in the 80s and a mother who lost her son in an accident around six years back, have joined the student protesters of Rajshahi demanding safe roads.
Iffat Ara Eva, lost her husband in a road accident in the 80s, only a year after her marriage and could not stop herself from joining the protests when she heard students in Rajshahi would also take to the streets with their demands.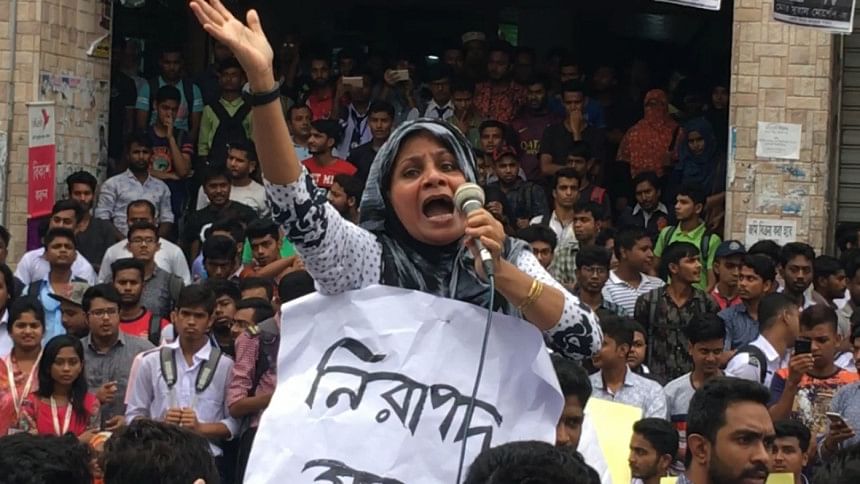 "I have not stopped shedding tears since the road accident that claimed my husband's life 30 years ago," Eva, a development worker in Rajshahi told The Daily Star as she was sitting on the street holding a placard "We want justice". 
She was accompanying hundreds of students of different schools, colleges and universities of Rajshahi at Shaheb Bazar zero point.
Iffat was a Psychology department student of Rajshahi University when she got married in the mid 80s. Soon after her first anniversary, her husband who was banker died at a road accident at Sonargaon in Narayanganj.
For that last five days, thousands of students took to the streets in Dhaka and some other parts of the country demanding justice for two of their peers who died in road crash at Airport Road on Sunday.
"I could not go to my in-law's house after our marriage. I was at home with our two months old daughter. He was on a family trip with parents. The news of his death came in the morning," she said.
Musarrat Bhuiyan was among one of the other few elderly women who joined the students' protests in Rajshahi. Musarrat lost her son in a road accident, reports our Rajshahi correspondent.
The students had asked her to address their rally yesterday.
In her speech, Bhuiyan who is receptionist at a city hospital said, "I am your mother. I managed to forget the pain of losing my son after joining you all in this movement," she told the rally.
She asked the student to remain peaceful in the demonstration and asked the police and administration to tolerate the excesses of kids.
Talking to The Daily Star, Musarrat Bhuiyan said, "Six years ago, a bus took the life of my son right when I was holding him."
Musarrat was raising the son of her sister who died at childbirth. When her son passed SSC exams and said he wanted to study at Dhaka College, she took him to the capital for coaching.
"I was walking on a footpath at Farmgate holding my son's hand. Suddenly a bus hit him and the bus ran over him when he fell on the road," she said.
"Every accident I have came across since then drives me mad. So when the students started the movement, I decided to join them. Because theirs' is the same as my demand," she said.