International media and civil society orgs campaigning against Bhasan Char: Foreign ministry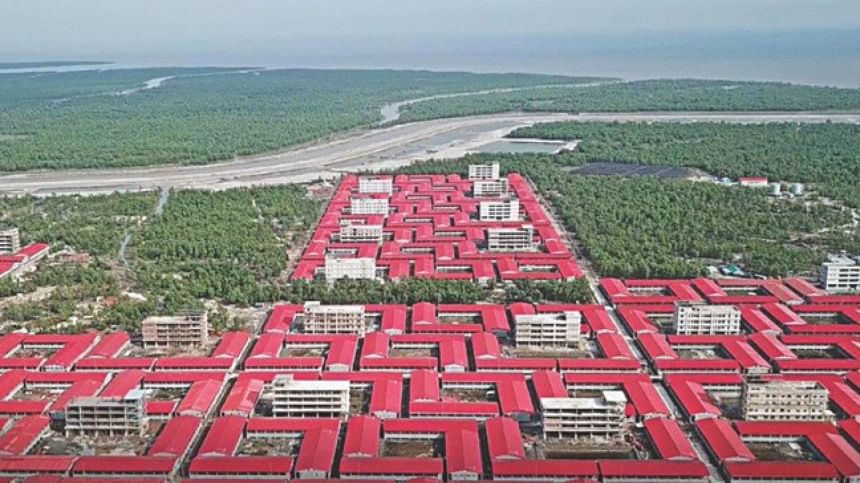 The foreign ministry said today that a section of the international media and civil society organisations were campaigning against Bhasan Char and Rohingya relocation with "distorted information misrepresenting the facts".
The ministry issued the statement a day after a large demonstration by the Rohingyas in Bhasan Char in front of a UN delegation that visited the island.
Gillian Triggs and Raouf Mazou -- UNHCR assistant high commissioners for protection and operations respectively -- yesterday visited the 100,000-capacity housing facility constructed by the Bangladesh Navy in an island on the Bay of Bengal.
At one point, the crowd became agitated and some of the Rohingyas reportedly sustained minor injuries, a foreign ministry statement said, adding that the situation normalised once the delegation left the island.
"In absence of any progress in repatriation, they expressed desperation to get out of the present situation and requested to consider relocation to a third country."
Referring to the campaign against Bhasan Char, the statement said, "Such campaign will undermine the magnanimous humanitarian gestures and the sincere efforts of Bangladesh. Excessive focus on temporary arrangement and undue criticism will only shift the focus from the permanent solution, which lies in repatriation and reintegration of Rohingyas in Myanmar."
When the delegation visited the island yesterday, the Rohingyas demanded the UN's presence in Bhasan Char to ensure facilities such as education, livelihood activities, skills development and confirmed to the UN delegation that their relocation to Bhasan Char was completely on a voluntary basis, the statement said.
Some 40 national NGOs and a few international NGOs are providing humanitarian assistance but the UN is yet to engage in the operations in Bhasan Char, although a UN delegation recently made positive observations on the facility.
"The Rohingyas want to return to their homeland and all, including the UNHCR, need to work constructively to that end. The UN is expected to assume their responsibility and operate within their mandate taking into account the ground reality and concerns of the host community," said the foreign ministry.
The ministry said it must be remembered that the Rohingyas are Myanmar nationals. Any arrangement for them in Bangladesh -- be it in Cox's Bazar or in Bhasan Char -- is purely on a temporary basis until they return to their country, it said.
More than 18,000 Rohingyas have already been relocated there since December last year from Cox's Bazar camps where nearly a million Rohingyas, mostly those who fled military crackdown in Myanmar's Rakhine state, live.
The Bangladesh government is ready to address any realistic needs and concerns of the Rohingyas, the statement added.