Where good deeds is the currency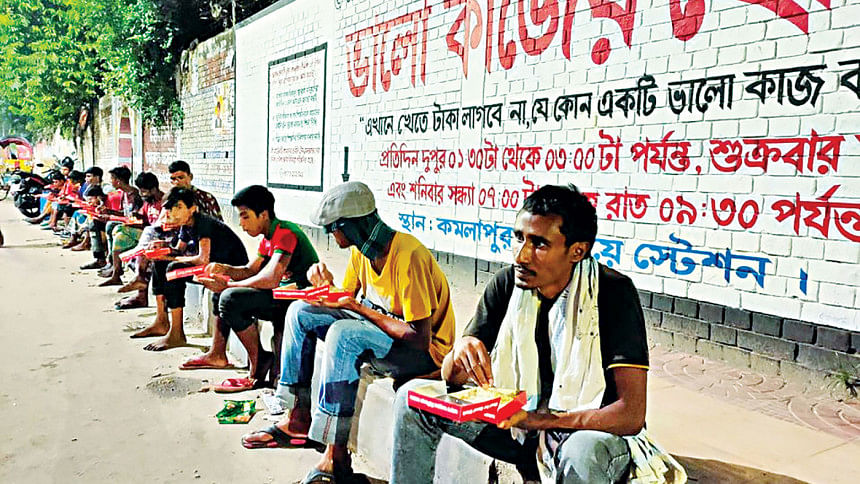 It's not a regular restaurant. You won't see the usual imagery of a shabby hotel here. No waiters running around like shuttle trains, no customers haggling with cash counter supervisors over a bill. It's so different in fact, that it doesn't even run on monetary exchange!
At Bhalo Kajer Hotel, the accepted currency is "good deeds". It's a restaurant where you can eat to stomach's peace day and night, all for free, as long as you have done a good deed on that day.
The "restaurant" is located beside a footpath near the Kamalapur Railway Station. At the spot, a white wall bears the name of the eatery, written in deep red for your eye's convenience.
If one crosses the area between 1:30pm and 3pm from Sunday to Thursday, a battery-powered van can be seen parked there. This is the Bhalo Kajer Hotel.
A couple of youths can be seen picking up food packs from the van and distributing them to a waiting crowd gathered on the footpath.
When this correspondent went to visit the place, he saw a young volunteer in the role of a surveyor. With a clipboard in hand, he took turns asking the crowd two questions: "What's your name?" and "Did you do any good deed today?" That's all you need to eat at the mobile restaurant.
It's only been a few months since the initiative was launched -- it started in August this year.
The eatery opens its door between 1:30pm and 3pm from Sunday to Thursday and between 7pm and 9:30pm on Saturday. Along with the spot at Kamalapur, they also distribute food to almost 300 people at various mosques and orphanages across Dhaka around Jumah time every Friday.
On weekends, the food packs come with chicken, beef, mutton khichuri and tehari. Khichuri and eggs go for the rest of the week.
The initiative was started on August 29 by Youth for Bangladesh (YFB), a Facebook-based volunteering organisation, said its founder Ariful Rahman. The endeavour goes further back
 though. The team first undertook a similar initiative under a project titled "Bhalo Kajer Binimoya Ahar" in December last year.
The planning started even before that. Ariful, who is an agro entrepreneur by profession, said he came up with the idea in 2009, when he was still a student of Southeast University.
Md Mizanur Rahman Babu, executive member of YFB's central committee, said they run the hotel by a Tk 10 contribution from each of their 265 members everyday. The food distribution programme is run by this Tk 80,000-ish they raise every month, said Babu, a lecturer at University of Information Technology and Sciences.
The organisation could've just made the food free, but Ariful said they want to inspire people into action. "When we first opened shop, a 10-year-old boy named Jahid used to come and eat for free, without performing any good deeds. However, after a few days, we came to know that he started watering a roadside flower tree. These kind of stories inspire us a lot."
In addition to this project, YFB has been running various other programmes to support people in need since 2012, Arif said. He said he's hopeful that this experimental method of inspiring action will work, and if it does, they will look to expand it to a greater extent.