The most anticipated game of 2077. Is it breathtaking though?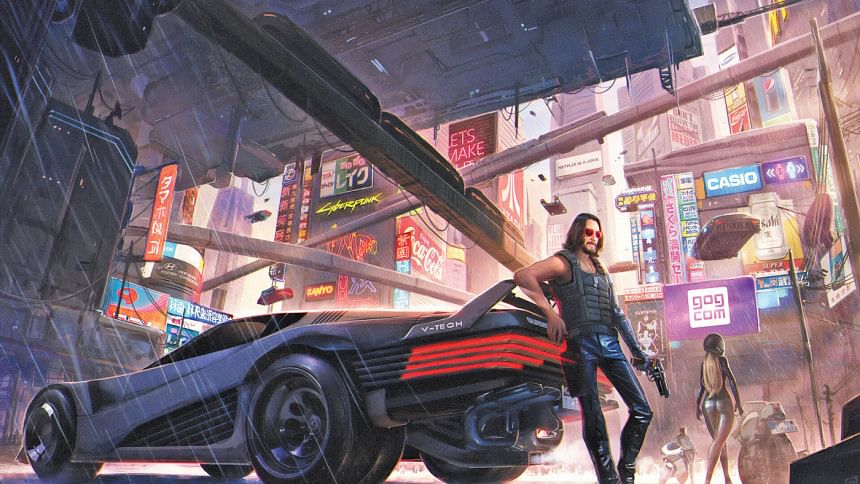 Finally, right? CD Projekt Red: Cyberpunk 2077 received over 8 million pre-orders. That's a game that fans have been waiting over 8 years for, with three delays happening this year. 
The open-world, action-adventure storysurrounds people of Night City and their obsession with powerand body modification. The RPG is led by your character V, a mercenary outlaw hunting for a unique body implant that grants immortality. It has five endings and two secret endings that need to be unlocked. And it has Keanu Reeves in it, darling of the internet and coolest dude of 2020.
The developer revealed 26% of the game's sales are physical copies. 74% sales happened on Steam, GOG, and the PlayStation and Microsoft stores. Hello digital world of Covid. On Steam, it has overtaken Dota 2 and CS:GO with over one million peak concurrent players.
Nine separate versions of the game were prepared and tested during the pandemic so that it could work on PCs and as well as current gen and next gen consoles. Despite that, many console players have been unable to play for bugs and were offered refunds. Complaints? Sub-par visual quality and repeated frame drops.
Weirdly though, people can play a pretty good version of the game on Google's game-streaming platform Stadia. With a decent internet connection, you can play the game pretty well. On top of that, you don't need to download the game meaning you need zero storage space. You can play on PC, TV or mobile. It's also cheap. $99.99 gets you a Stadia controller and a Chromecast Ultra. And that's all you need. The service isn't available in Bangladesh and most of Asia yet but you can play through VPN. Just make sure your net speed is above 10mbps. And because Cyberpunk isn't a multiplayer, you don't need to wait for other players to show up. Something that even PUBG players face these days.
Despite the hiccups, the game has a superb storyline, or seven. It's engaging and heavy on the immersive details. Dystopia never looked this good. You will get lost for hours just taking in the views of the city. The developers hired real city planners to help map out Night City so it feels more natural. Fans of 1982's Blade Runner will find a lot of similarities.
The main story of Cyberpunk 2077 takes under 50 hours to complete. There are plenty of side quests and Easter eggs that account for about a 100 hours of play time. This is similar to Witcher 3 which can actually take up to 200 hours if you play everything. That's a lot of time to kill.
Note: Bug patches are out already.