Brac starts antigen test from today
Service will initiate with 16 booths in Dhaka, Ctg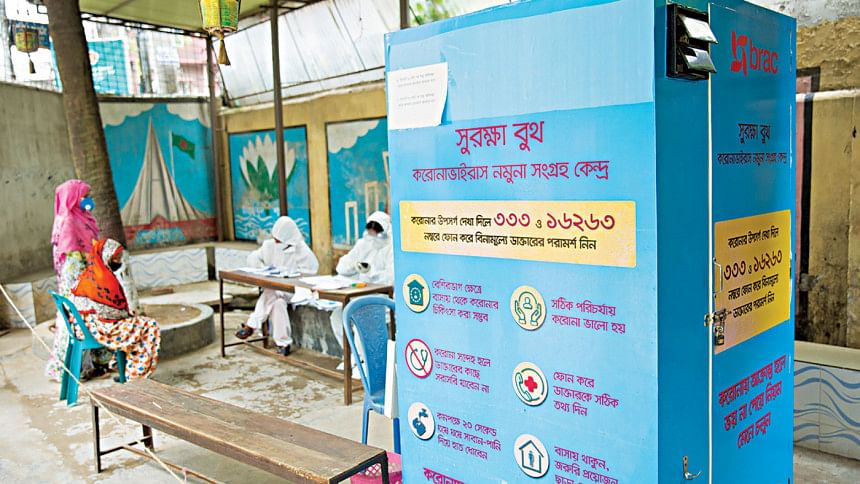 Brac will launch antigen-based Covid-19 rapid testing for suspected patients to get results within a comparatively shorter period of time from today.
The programme will run under the overall supervision of DGHS, said a press release of the development organisation. The service will initiate primarily with 16 booths -- 15 in Dhaka and one in Chattogram.
Brac has been collecting samples to detect coronavirus through RT-PCR test by installing testing booths in different parts of the country since March 2020. It is now adding the rapid antigen test to the existing facilities.
The plan to expand this activity has come amid the new surge in Covid-19 cases. The rapid antigen test facility will gradually expand to Brac's 32 testing booths in Dhaka and four in Chattogram, according to the Health, Nutrition and Population Programme (HNPP) of Brac.
The booths will remain open from 9am to 12 noon from Saturday to Thursday. Each of the booths will be able to collect and analyse 150 samples a day, according to the press release.
Currently, RT-PCR tests are followed in Bangladesh for the majority of the samples, which takes at least 24 hours or more to get the results. But, an antigen test will deliver the result within 30 minutes, which, Brac expects, will add pace to the government's Covid-19 testing operations.
To get the test via Brac booth, a person must take an online appointment at coronatest.brac.net.