25 Barishal University students injured in midnight attack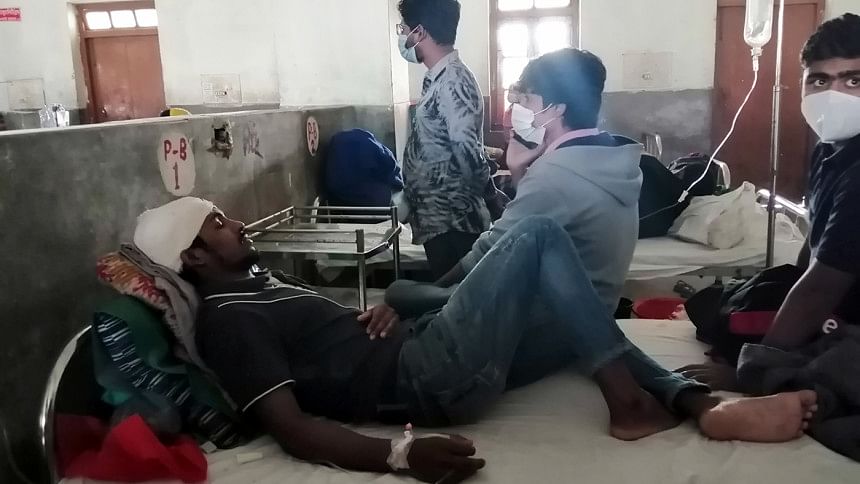 Around 25 students of Barishal University were injured after miscreants attacked them at their hostels in the city's Rupatoli area early today.
Thirteen of the injured were admitted to Sher-e-Bangla Medical College Hospital, three are in serious condition, reports our local correspondent quoting fellow students.
A group of 50 miscreants carried out the attack with sticks, iron rods and sharp weapons around 1am, said Hasibul Hosen, one of the injured.
"The criminals were led by transport leaders," Hasibul claimed.
Meanwhile, students of the university were demonstrating on the Barishal-Kuakata highway since morning, protesting the incident. They were obstructing movement of buses on the route. Some of the agitating students also set an empty, parked bus of Kuakata Express on fire.
Dr Sadekul Arefin, vice-chancellor of the university, after visiting the hospital this morning said that the university authority will make sure the students receive proper treatment.
"The expenses of the treatment will be borne by the university," he added.
He will be able to comment further on the incident after holding meeting with students, the VC said.
The incident comes after BU students had blockaded the Barishal-Kuakata highway yesterday in protest after two of their fellows were assaulted at the BRTC Bus Stand inside the campus.
Rafik, a transport worker, allegedly stabbed Sajal, a BU student, following a brawl, our local correspondent reports.
Police later arrested Rafik following which the blockade ended.