DSCC to reward rooftop gardening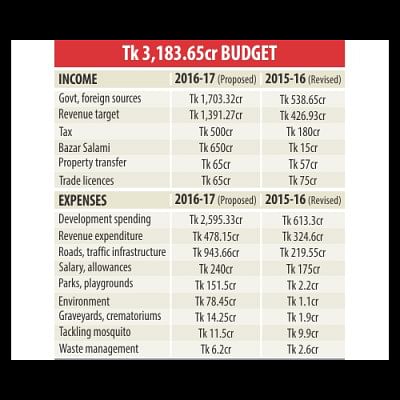 House owners under Dhaka South City Corporation (DSCC) will enjoy a 10 percent tax rebate if they do gardening on the rooftop, balcony or the compound, Mayor Sayeed Khokon said in his budget speech yesterday, prioritising a green city.
"We are giving the tax rebate so that this money is used for gardening," he said.
The Tk 3,183.65 crore budget, proposed for the 2016-2017 fiscal year, is Tk 1,098.19 crore higher than last year's.
There has been a significant jump in the allocation for development of parks and playgrounds -- Tk 151.5 crore, which is 69 times bigger than the previous year's revised allocation of Tk 2.2 crore.
"We have taken initiatives to develop 12 playgrounds and 19 parks including construction of a modern kid's park on Dhupkhola playground. The works will start in the current fiscal and will be completed by 2018," Khokon said.
Laying emphasis on waste management, he said they had already set up 5,700 waste bins and 50 steel fences around garbage dumps and were working to build 54 secondary transfer stations.
Many footbridges have been beautified while 16 more will be constructed, the mayor said.
To bring coordination under utility service organisations like Wasa and Dhaka Electricity Supply Company (Desco), the corporation plans to set up a 63km common utility tunnel.
"We are already in the final stages to appoint a firm to do a feasibility study in this regard," said Khokon.  
He also said they had already set up 2,700 LED lights and taken initiative to set up 34,000 more.
There will also be six modern community centres, an elevated walkway in Gulistan, and cycle lanes in Dhaka University areas.
About holding tax, the mayor said the corporation would not raise holding tax but rather strengthen the assessment process to increase the amount of the tax realisation.
About the new unions which have come under DSCC recently, he said Tk 20 crore was allocated for development of the unions.
Khokon also said, "It was my election pledge to bring back the Buriganga to its earlier state. We have a plan for this."
There will be walkways, floating entertainment centres, luxurious resorts, parks, cruise ships, and restaurants under the project, he added.
Dhaka North City Corporation (DNCC) announced a Tk 2,083.35 crore budget for the 2016-17 fiscal on June 26.