BNP men clash with police in High Court area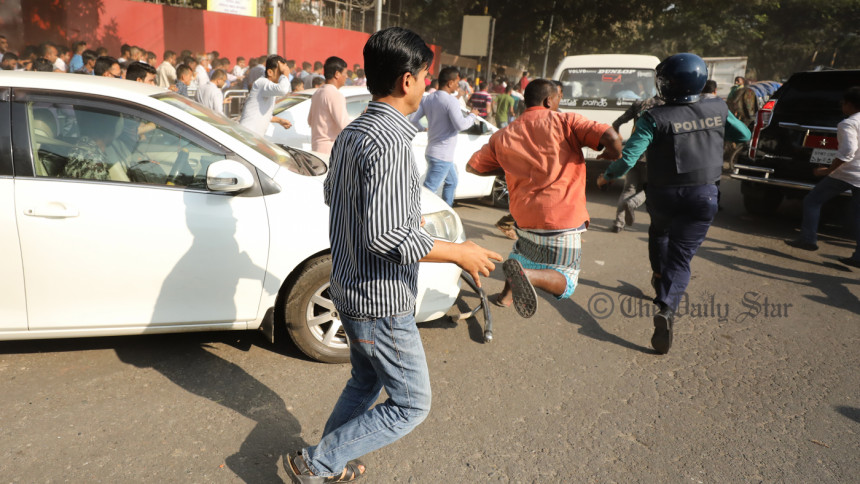 BNP leaders and activists locked into a clash with police in High Court area to press home their demand for immediate release of the party's Chairperson Khaleda Zia from jail.
A good number of agitated leaders and activists of BNP gathered at the High Court intersection around 1:00pm and staged demonstration for around an hour to meet their demand.
At one point, the agitated BNP men went on a rampage and vandalised several vehicles. Police went into an action on the agitators that led clash and counter clash between the lawmen and BNP activists.
In a bid to bring the situation under control, police fired teargas canisters and dispersed the protesters from the street.
Earlier in the day, a pro-BNP platform, Muktijuddher Projonmo, held a programme at Jatiya Press Club demanding immediate release of BNP's incarcerated chief Khaleda Zia.
After concluding the programme, they brought out a procession with several senior leaders of BNP including its Vice-chairman Abdullah Al Noman, Khaleda's adviser Shawkat Mahmud and Gonoshasthaya Kendra founder Dr Zafrullah Chowdhury.
Police intercepted the BNP activists and supporters when the latter were attempting to bring out a procession from the press club around 1:00pm.
Defying the police barricade, the agitated BNP men marched forward and took position at the High Court intersection, our staff correspondents reported.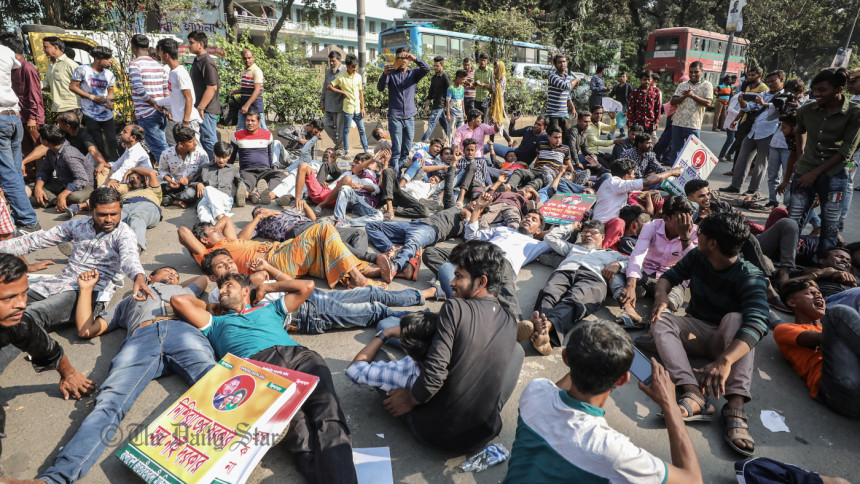 At one stage, the demonstrators vandalised some vehicles and chanted slogans demanding release of former prime minister Khaleda.
The situation took an aggravated turn when additional policemen was deployed in and around the area, the correspondents said.
Police fired teargas shells at the demonstrators to disperse from the area but they went on clash with the lawmen by hurling brick chips indiscriminately.  
The law enforcers also went on a counter-attack in a bid to take the situation under control.
Talking to The Daily Star, Sazzadur Rahman, deputy commissioner (Ramna division) of Dhaka Metropolitan Police, said the BNP men took to the street equipped with wooden logs and sticks and swooped on police abruptly.
"Some of our policemen sustained injures in the attack. I think it was a pre-planned attack," the police official said adding that the effort in on to nab the attackers.