Two dying rivers and the miseries they bring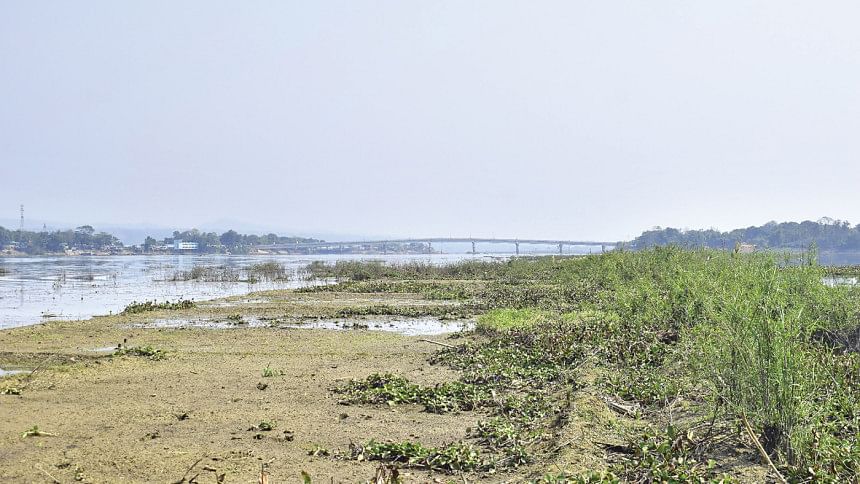 Abul Kalam, a fisher from Khagrachhari's Panchhari upazila, has been earning his livelihood by fishing in Changi river for the past 20 years. The 52-year-old's entire childhood was spent on the river's bank.
"Once, there were a lot of fish in Changi. But now, only a small number of fish are available during monsoon," said Abul. "The river dries up during summer and no fish can be caught. We struggle to make ends meet during the season."
There were 23 species of fish in Changi, according to a research titled "Water quality and fish diversity of Changi river in Khagrachhari district". It was home to various aquatic animals and a source of livelihood for fishers.
According to data from District Fisheries Office in Khagrachhari, there are 2,776 registered fishers in Mahalchhari and Dighinala upazilas of the district.
Another river -- Mainee -- is suffering the same fate.
Not only fishers but also farmers, businesspeople, boat owners and people of other professions in the region, whose livelihoods depend on rivers, have suffered at different points due to the Changi and Mainee rivers in Khagrachhari turning into narrow canals, thanks to the emergence of several shoals (chars).
Farmers saw a change of fortune once they started cultivating potatoes, chillies and other crops on the banks of both Changi and Mainee. Earlier, they used water from the rivers for cultivation. Due to the rivers drying up during summer, they now have to look for artificial sources for irrigation.
"Irrigation by using pumping machines has increased our production cost, and thus, brought down our profits," said Ahmed Hossain, a farmer in Panchhari upazila.
While summer heat causes the river to dry up, with the onset of monsoon, floods cause the destruction of crops on the riverbank.
"Our real woes begin during monsoon," said Ahmed.
People who depend on the rivers live in fear during monsoon, as no initiative has been taken to dredge the waterbodies or prevent  erosion, said Ismail Hossen, a school teacher and resident of the upazila.
"The banks of both rivers are inundated during monsoons. Hundreds of houses have submerged," he added.
Mahmuda Begum Lucky, chair of Merun Union Parishad in Khagrachhari, told The Daily Star that 30 villages in Merun union are flooded every year during monsoon due to the absence of embankments on the riverbanks.
The Changi originates from the Indian state of Tripura. The 96-km-long and 77-metre-wide river meets Kaptai lake in Rangamati, while the 109-km-long Mainee also falls into the lake.
The depth of Changi used to be around 40 feet. However, it has been reduced to 15 feet, said an official of Bangladesh Water Development Board (BWDB), seeking anonymity.
Nahiduzzaman Khan, executive engineer of BWDB, told The Daily Star that both rivers have been filled up. Moreover, they have been the source of immense misery for people whose lives and livelihoods depend on them, as the waterbodies have never been dredged.
The government has taken up a project at an estimated cost of Tk 586 crore to dredge both rivers, and the Executive Committee of the National Economic Council (Ecnec) approved the project in July 2022.
Under this project, 10.81 km of embankments will be constructed on the banks to protect the population living there from floods and erosion. Moreover, 59.3 lakh cubic metres of Changi and 76.34 lakh cubic metres of Mainee will be dredged.
If the project is implemented, important structures, settlements, cropland and forest resources will be protected in seven upazilas in Khagrachhari, said a project official, wishing anonymity.
"We have undertaken a project to restore both rivers to their former appearance by surveying them. There will be no more suffering for the locals, as dam construction and dredging of both riverbanks will be done under the project," claimed Nahiduzzaman.
The project is scheduled to be completed by June 2025.