The menace of makeshift markets
Illegal structures around rail gates continue to pose risk of accidents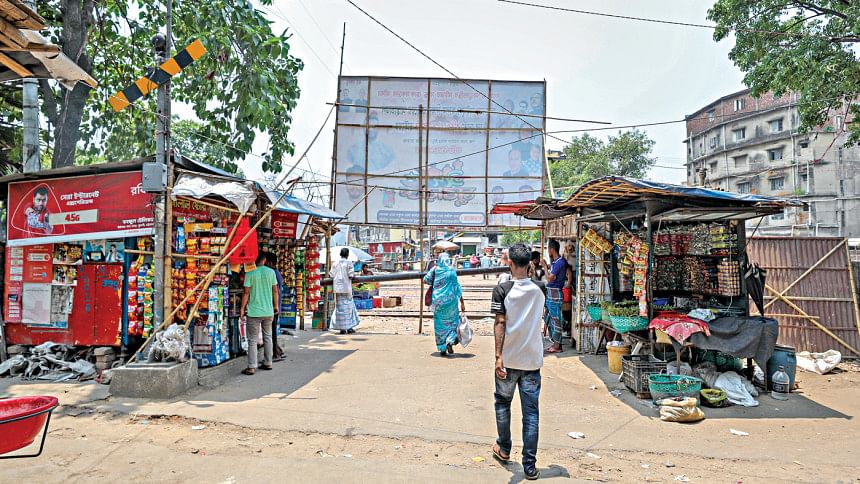 Illegal structures selling fruits, vegetables, fish, and consumer products on both sides of the rail track in the Jan Ali Hat rail gate area on the Chattogram-Dohazari section of Bangladesh Railway (BR) continue to pose a risk of train accidents.
Despite several recommendations by probe bodies to remove these structures, the BR has failed to act, leading to chaotic situations and endangering the lives of passengers.
Sources inside the Jan Ali Hat station master's office, which is allocated beside the rail gate, claim that eviction drives have been conducted in the area but the shops return as soon as the drives end.
Meanwhile, vendors like Abul Kalam claim that their businesses do not disrupt train services. He sells vegetables beside the rail gate.
"Locals visit this place every day to buy daily commodities at a cheaper price," he added.
A train-microbus collision at the Mirsarai Borotakia rail crossing claimed 13 lives last year. A probe body found both the rail crossing gateman and microbus driver responsible and submitted a report with 11 recommendations, including the removal of all illegal structures from both sides of the rail lines and installing CCTV cameras.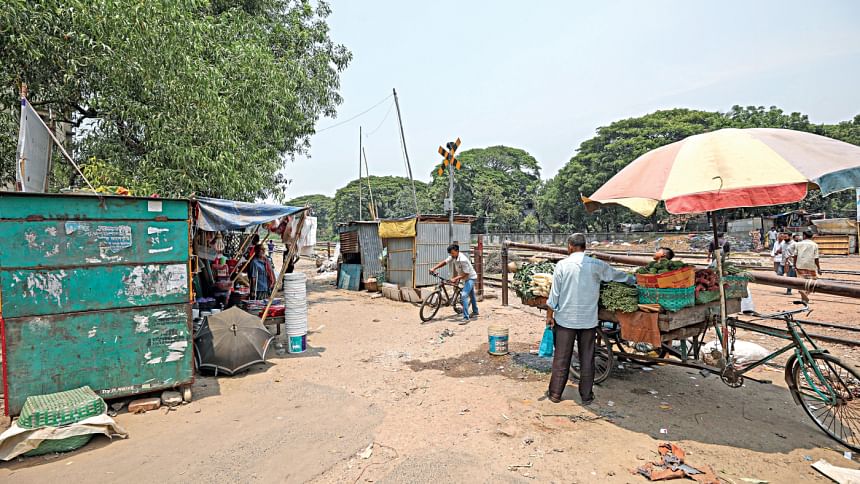 BR has failed to implement most of these recommendations, leading to frequent minor and major train accidents. Md Arman Hossen, additional chief engineer of the BR East Zone, confirmed that only three of the recommendations have been implemented, without going into further details.
Zahangir Hossen, general manager of the BR East Zone, claimed that probe bodies often make "unnecessary" recommendations.
"However, we plan to gradually implement long-term recommendations like constructing overpasses at railway gates," he added.
Mahmood Omar Imam, a professor at the Chittagong University of Engineering & Technology, said, "After accidents, BR investigates with its own people to find out the cause. This results in probe bodies being formed by incompetent people who cannot unearth the root cause of such incidents."
"To tackle train accidents, BR should include external experts in investigation committees and implement the recommendations they suggest," he added.