Plastic waste a prevailing threat to port city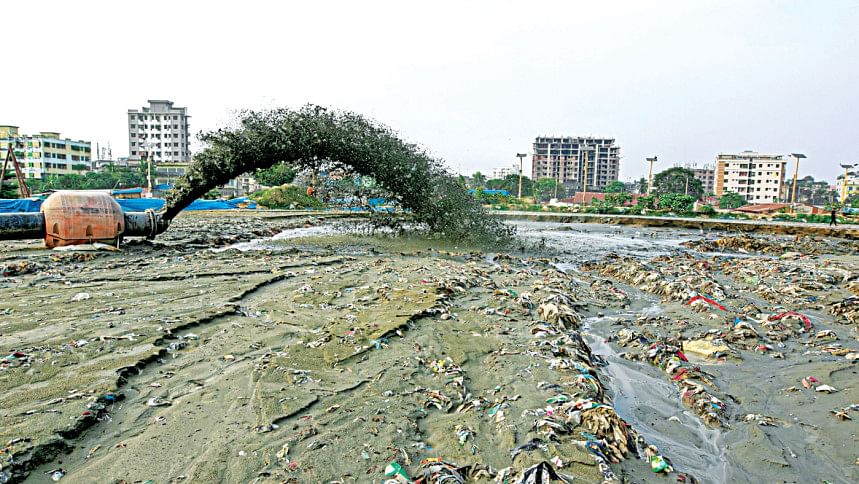 A new study found that Chattogram city produces 3,000 tonnes of waste every day, of which, 249-tonne is plastic waste.
Around 56 percent of this waste remains uncollected and is eventually dumped in water bodies and rivers, according to the study titled "Creation of awareness to reduce waste plastic and waste polythene alternatively used in road construction".
Pial Barua and Al Amin, students of civil engineering at Chattogram University of Engineering and Technology (Cuet), presented their research findings during a seminar at Chattogram Press Club recently.
The research was conducted from August 2021 to August 2022 in Chattogram's low-lying areas experiencing water stagnation, among 75 retailers, 75 waste pickers and a few manufacturers in the port city.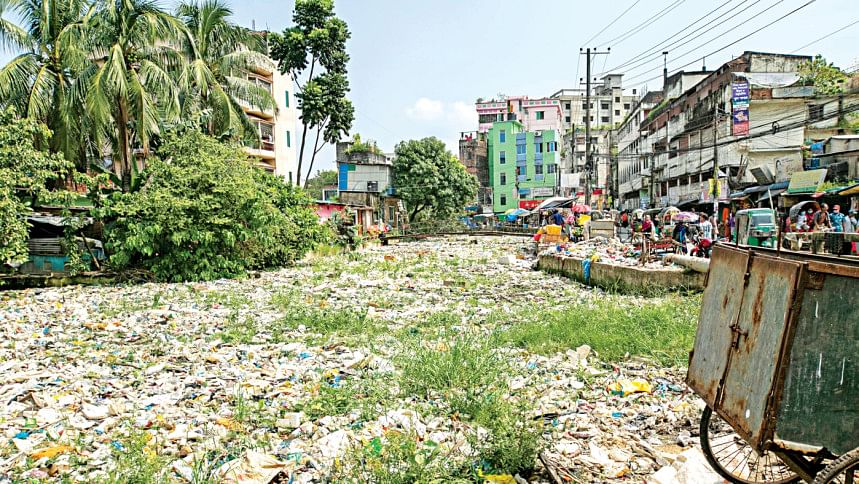 "With rapid growth and urbanisation, Bangladesh faced a sharp increase in both plastic use and pollution," Prof Swapan Kumar Palit of Cuet's civil engineering department and also the supervisor of the study, told this correspondent.
Around 54.66 percent of water stagnation is caused due to plastic waste, which also leads to water pollution, death of aquatic animals and health hazards.
The study showed that of the 249 tonnes of plastic waste, 140 tonnes cause water stagnation.
Around 54.66 percent of water stagnation is caused due to plastic waste, which also leads to water pollution, death of aquatic animals and health hazards.
"Of the plastic waste, the most used products were sachets, one-time used utensils, and personal care products,'' the study added.
The study also predicts that the port city will generate 428 tonnes of plastic waste in 2052.
Prof Swapan Kumar Palit said neighbouring countries like India introduced the use of recycled plastic use in road construction.
"If the authorities conduct a thorough research and find a way to implement it, we will benefit in the long run," he said.
Bangladesh -- the world's first country to ban plastic shopping bags through a regulatory order in 2002 -- has now ranked 162nd out of 180 countries as the most polluted countries, according to the 2020 report of the Environmental Performance Index of Yale University.
The Jute Packaging Act 2010 for six essential items (paddy, rice, wheat, maize, fertiliser, sugar) promoted an alternative to plastic packaging.
In 2020, a High Court directed the concerned authorities to ban single-use plastic in coastal areas and all hotels and motels across the country.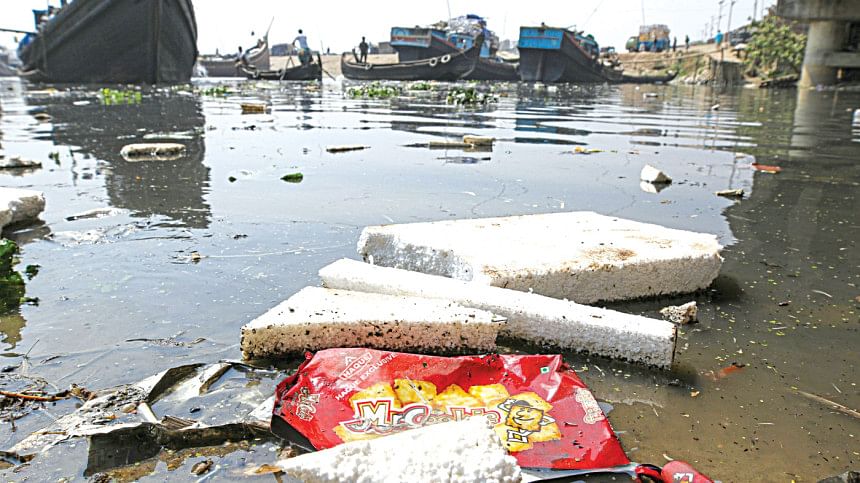 However, that alone has not been able to put a stop to plastic pollution.
Prof Idrish Ali of Govt Haji Mohammad Mohsin College's chemistry department said plastic often ends up clogging rivers, sea and other water bodies and degrades over time into microplastics that are released into the environment
"This poses threat to humans and the entire ecosystem," he added.
Meanwhile, people of the port city continue to suffer from water stagnation for over a decade, largely due to plastic pollution.
The government has taken a series of projects to eradicate the perennial problem in Chattogram.
On August 9, 2017, the government undertook "Canal re-excavation, renovation and expansion to eradicate water stagnation in Chattogram", a mega project, at a cost of Tk 5,616 crore. The project is being implemented under Chattogram Development Authority and supervised by army.
Contacted, Morshed Alam Chowdhury, additional chief cleaning officer of Chattogram City Corporation, said they collect waste from door-to-door on a regular basis to keep the city clean.
However, it is not possible to get rid of this plastic menace if the residents are not aware of the consequences, he added.