Patiently threaded, diligently made
Eid ushers in hope for karchupi-zardozi artisans
With Eid approaching, the artisans of the port city's Bihari Palli, who specialise in zardozi and karchupi work (intricate designs done by hand with beads and metal thread embroidery) are working day and night to straighten out their orders at different boutiques of the region.
In these "boutique" factories in and around Jhautala Bihari Camp, zardozi and karchupi worked attires are being crafted with skillful hands, sharp eyes, and unrelenting patience. Once finished, these garments reach the city malls, where customers purchase them as Eid attires.
According to the artisans, even though there are two weeks left for Eid, the owners of the boutique houses have stopped taking new orders from the first week of Ramadan due to work pressure.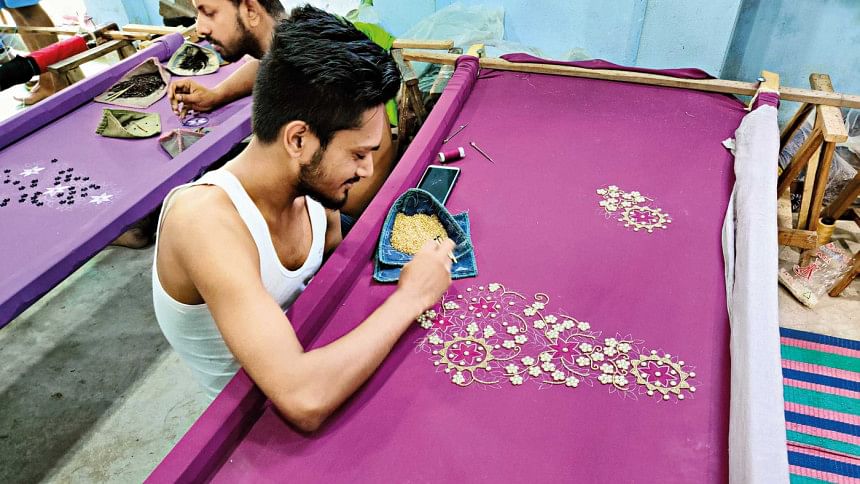 At present, 200 artisans work in various boutique houses in Jhautala and Bihari Palli.
Once, the area used to remain busy almost the entire day. However, ever since imported clothes from foreign boutique houses increased, their work decreased significantly.
Many artisans had to shift to other professions due to a lack of work throughout the year. Female artisans started working at garment factories while many of the men migrated to different countries in the Middle East.
Now there are just about 15 boutique houses in the area.
Md Jalal has been involved in this profession for the last 15 years. He owns "Choice Karchupi House", a boutique in the Wireless Colony area on the west side of Jhautala station.
Jalal runs this boutique house with 15 workers. Their descendants have also been involved in this work. In addition to their studies, these young artisans are learning how to make these handicrafts from scratch from their fathers, uncles, and aunts.
"The work pressure increases a month before Ramadan. Usually, we do this type of embroidery on sarees, ornas, and different types of dresses. Besides, we also get orders to do this type of work on Burkas," Jalal said.
Talking about their busy schedule, Jalal said the artisans are now working two shifts every day.
"Even though Eid work-orders give the artisans some hope, the amount of work we receive throughout the year is still very little," said Md Saeed, manager of Anusha Boutique.
He said the demand for ready-made garments in the market is increasing day by day and people are losing interest in the local zardozi crafts.
Md Rubel, an artisan at Anusha Boutique, said, "Before, we could hire workers at any given point. Presently, since many have shifted to other professions, it's extremely difficult for us to hire workers when the workload increases." He said due to the reduction in work, many craftsmen have to sit idle throughout the year. For which, many had to close their factories.
The artisans lamented that the tradition of zardozi-karchupi embroidery may cease to exist if the present situation continues.