New road brings relief to commuters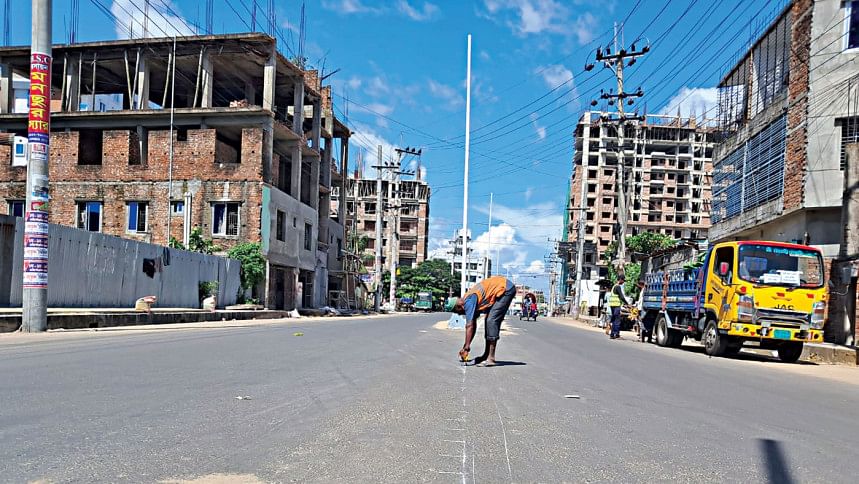 "I don't have to waste hours in traffic anymore thanks to the newly-constructed Bakalia Access Road," said Sajeda Akter, a school teacher, who used to get late for work regularly due to gridlock at Kotwali intersection while travelling from Chattogram's Karnaphuli upazila to the city's Chawkbazar.
Constructed by Chattogram Development Authority (CDA), this road will ensure easy and safe commute for thousands residing in the eight upazilas located in the southern end of the district.
According to CDA sources, they undertook a project in 2015 to construct a link road from Siraj-ud-Doula to Shah Amanat Bridge, following the city's master plan formulated in 1995.
The project commenced on September 6, 2016, with a budget of Tk 205 crore and was supposed to be completed by June 2019.
Following delays due to complications in land acquisition processes, the project was extended till June this year, while its budget got increased by Tk 15 crore, said Kazi Kader Neawz, the project's director.
Visiting the 1.5-kilometre and 60-foot wide road on Tuesday, this correspondent found the physical works completed. The workers were seen carrying out cleaning and beautification work.
"I will soon move to another project within a week as our works here are over," said Mohammed Joshim, a worker who has been employed in this project for the last two and a half years. 
The construction of this road had led to an increase in land prices and local businesses, said Mozammel Hoque, owner of Mahin Sanitary, located near the road.
A letter seeking permission to officially inaugurate the road has already been sent to the ministry, informed the project director.
"We will inaugurate the road as per the higher authorities' instructions. Meanwhile, vehicles will continue to ply it," he added.