CDA plans to collect toll from Bayezid link road
Transport experts, locals oppose move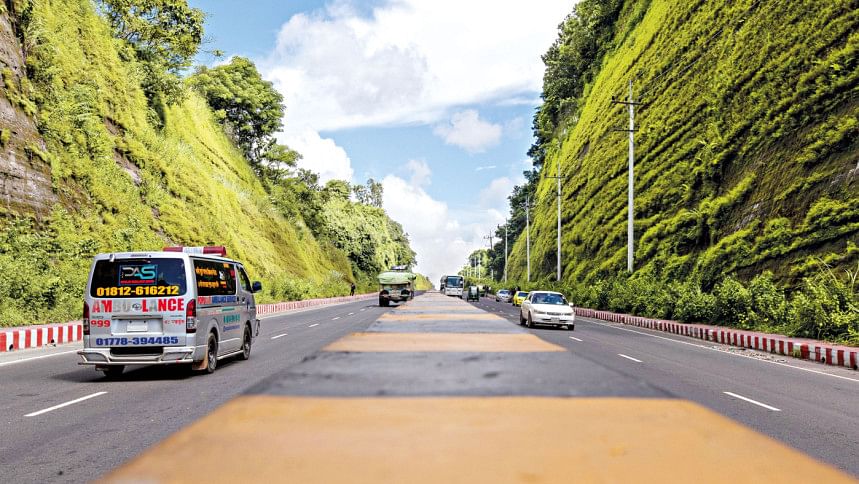 Chattogram Development Authority (CDA) plans to bring Bayezid-Faujdarhat Link Road under toll system to raise funds for developing and maintaining the six-kilometre road.
"Last month, the Ministry of Housing and Public Works approved the revised DPP (development project proposal) to collect toll from this road," Asad Bin Anwar, CDA engineer and director of the link road project, told The Daily Star.
Development works of the road are almost complete, and many vehicles already use it every day.
CDA officials claimed that once the project is complete, motorists will be able to get to Dhaka-Chattogram highway from Kaptai, Rangamati, Hathazari, Rauzan and Rangunia, without having to enter the port city.
Earlier, CDA spent its own money for the roadwork. Then, authorities proposed to levy tolls to raise money for maintenance and development. But the plan is still in its early stages. The final decision will be taken after all the stakeholders give their consent, he said.
Transport experts, however, opposed the proposal.
Engineer Subhash Barua, transport expert and vice-president of Forum for Planned Chattogram, told The Daily Star, "It is not a highway. There is no reason to charge toll for a connecting road. Traffic on this road will decrease if this is done, which will result in little benefits."
Meanwhile, locals and transport operators are urging the authorities to cancel the proposal.
Shamsuzzaman Sumon, port affairs secretary of Covered Van-Truck-Prime Mover Goods Transport Owners Association, said the road plays a vital role in decongesting Dhaka-Chattogram highway, because it acts as an alternative route.
But if toll is collected, traffic on the link road will decrease, which means congestion on the highway will return.
During a recent visit, this correspondent found that although roadwork has not been completely finished, small and big vehicles were plying it.
The authorities concerned are not facing backlash for the first time. They have allegedly razed as many as 18 hills beyond the permitted levels in Pahartoli, Jalalabad and Salimpur to construct this road.
Recently, Department of Environment (DoE) declared eight of the hills "risky".
In February 2020, DoE fined CDA Tk 10 lakh for causing environmental damage while implementing the project.
CDA started constructing the link road as a two-lane one under a Tk 172-crore project, known as Loop Road Project, in the middle of 2015, around eight years after the initiative was taken back in 2007.
Later, the authorities prepared a revised DPP to make the road have four lanes, with a revised budget of Tk 320.78 crore, including Tk 100 crore for land acquisition.