Best options for your digital cow
Eid-Ul-Adha is less than a week away, and for many people, this is the time when they'll hit the markets, scouting for the best deals. But why go to the market when you can find them from the comfort of your home, all on one digital platform.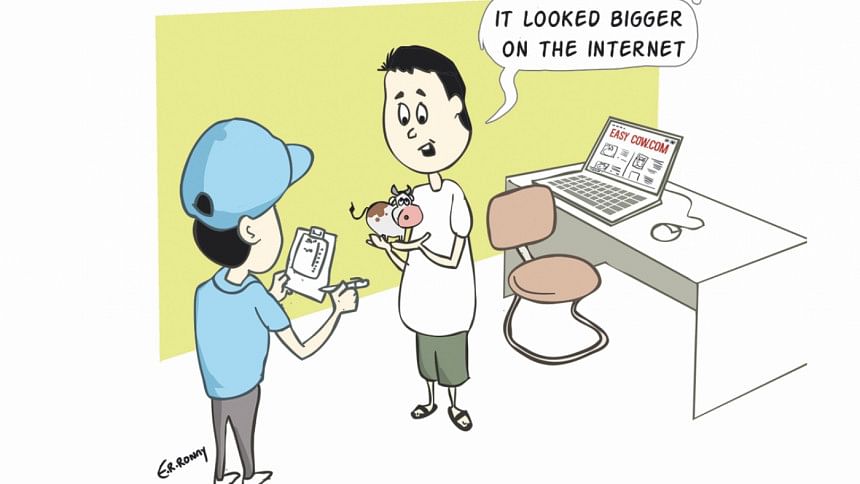 It's no surprise that you can take your pick of cattle from online market platforms now. But it is surprising however, the number of places you can look online for buying a cow, goat or bull. Apart from the Facebook groups, you have places like Daraz and Bikroy.com alongside other e-commerce sites, just waiting to ship you your choice of sacrifice.
The most overwhelming of these places is Facebook, which has been a forerunner in taking the Qurbani market to a digital arena. Currently, several Facebook groups are actively participating in the buying and selling of cows. One such group is "Goru Chagol Er Birat Haat !!(GCBH)"which has been active since 2016 and is currently 30,000 members strong with eager buyers and enthusiastic sellers of all kinds of cattle, including cows, goats and sheep from all across the country. There is also "Bangladesh er Goru Chagoler Haatt – BDGCH" and "BD Cattle Show" amongst a myriad of similar groups that you might come across in your search pages. Just like any other Facebook buying-selling group, these groups have regulations and admins that control what is being posted or whether or not those posts are relevant to the customers of the group. You can communicate with buyers directly from the group and choose the most convenient option for yourself. If you are looking for an easy cattle purchase this Eid, Facebook pages is a good option to look into.
If too many options, and the lack of reliability on quality is an issue for you, then you will probably be needing to spend a little bit more and look into online platforms.
One of these platforms is Daraz, which is not only an online market for all kinds of products you can think of, they have also been selling cows on their website since 2017 every Eid-Ul-Adha. This year it's no different. Daraz will certainly have less options compared to the deals found on Facebook groups, but that could just be a better alternative for some. You can find cows ranging from BDT 45,000/- to 150,000/- on Daraz. They also offers free delivery for every cow, vouchers and cashback offers of up to 20% when you're paying by card.
Another website you can look into this Eid is Bikroy.com, where you can find cows ranging from BDT 45,000/- all the way up to BDT 400,000/-. Goats can be found for prices between the BDT 15,000/- and 40,000/-. Bikroy.com has been an online market place for cows for around five years now and currently there's over a thousand cattle to pick and choose from. The site has around 100 farms in membership, selling cattle to buyers, making it a safe and easy place for online cattle purchase during Eid.
Bengal Meat also offers cows starting from BDT 70,000/- going up to 400,000/-. The prices may seem a little steep, but it is for a good reason for many of their customers. These cows are organically fed so if you have concerns about how healthy this cow will be for such a big occasion, you are bound to be satisfied. The cows come from Bengal's own farm and so they make sure the cows are not given any steroids or artificial hormones. If you choose to buy your cow from Bengal Meat, you will have the option to pay online or at the designated Gourmet Butcher Shops. Once you have purchased your desired cow, it will be delivered at the destination of your choice along with a proper health certificate from a certified veterinarian.
While Facebook groups offer a wide variety of options for you to choose from, online buying-selling platforms provide less option and greater reliability for a larger price tag. Whatever you choose, all these "online bazars" come up with several discounts on their sale and it's a good idea to compare the prices before you make a purchase decision.
If you are new to the online cattle purchasing trend, then it is also a good idea to consult someone who has done this before. It never hurts to be careful when making large sum purchases like these, despite the convenience they have to offer. So, choose an option that's best suits your needs.