Tech Talk</br>Five Government policies that will change the country's ICT sector
"Digital World & BASIS Softexpo 2015"- A look back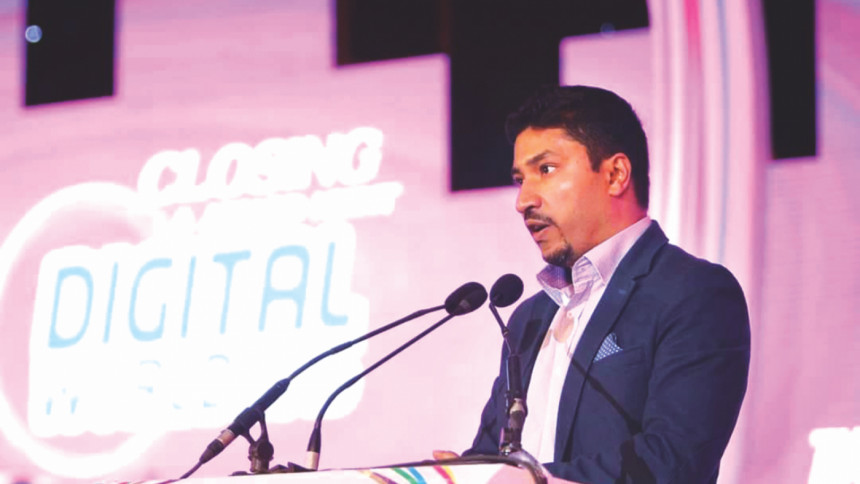 The four day long Digital World 2015- South Asia's largest ICT exposition and 'BASIS Soft Expo' was held recently in the Bangabandhu International Conference Center in the capital. The event was organized jointly ICT Division and BASIS. With the participation of 450,000 visitors, 86 guest speakers from 25 countries, the fair saw 45 conferences and seminars, National ICT Award Ceremony and other grand events before concluding on the 12th of February.
Honorable Prime Minister Sheikh Hasina inaugurated the Digital World 2015 in the afternoon on 9th February. Prominent IT personas including International Telecommunication Union (ITU) General Secretary Houlin Jhao, CloudCamp founder Dave Nielsen, TiE Silicon Valley President Venk Shukla, MasterCard's Business Leader Tony Murphy, Google's South Asia Head of Sales Ben King, Head of Agency Development Bickey Russell, Facebook's Asia Pacific Director and Head of Public Policy Aankhi Das, Accenture Bangladesh Chairman Avinash Vashista, Augmedix CEO and Co Founder Ian Shakil, International Trade Center (ITC) Senior Officer Martin Labby, were present in the fair among others.
If policies are made on these 5 issues, then the country's ICT sector will definitely take a positive turn and it is these policies that constitute this write-up.
Ensuring participation of local companies in Public Procurement
Currently, software and ICT based goods and services produced by many local firms are being exported in the international market. Even though software and ICT products produced in our country are at par, or even better than those produced in other countries, various government and private organizations are still importing these from foreign countries. Yet, we see that the foreign donor agencies, while financing public ICT procurement projects, often incorporate strict conditions which facilitate the participation of foreign organizations rather than helping the local ones. Thus, in most cases, the money goes out of our country. In countries such as Singapore, Malaysia and many others, it is specifically mentioned in the legislations that for public procurement, at least 50% of the work has to be done by domestic firms. Hence, we need to enact rules and regulations in this regard as well. If implemented, instead of importing software worth several hundred millions of dollars, we can use local software and develop a strong ICT sector. We brought this issue to the notice of Honorable Prime Minister, Planning Minister, and Finance Minister. They have assured to bring necessary changes in policy.
Increasing tax holiday for ICT sector
Prior to the Digital World last year, during a meeting of the Advisory Council, We told the Finance Minister that tax holidays are increased by 1 year as part of an incentive package for the ICT sector. ICT State Minister Zunaid Ahmed Palak and other Ministers present in the meeting supported my proposal and the Finance Minister also promised to implement this. Tax break for software and IT enabled services sector was increased till June 2019. In the Ministerial Conference in this year's Digital World and BASIS SoftExpo, Sajeeb Wazed Joy, ICT Advisor to the Prime Minister, requested to increase the tax break by 10 years until 2024. If this tax exemption is increased till 2024, then we will be able to attract even bigger number of foreign Investors.
E Commerce based goods and services be exempted from VAT
Online buying and selling, or E-commerce, is another fast growing sector in Bangladesh. To ensure the security of transactions, Bangladesh Bank took necessary steps to implement a two factor authentication system as per recommendation of BASIS. The government has taken many steps i.e. policies taken to develop the E-commerce sector include purchasing online using credit cards, introduction of digital certificates, etc. However, VAT exemption can play an important role in developing the rapid spread of E-commerce. Hence, in this year's Digital World, I requested VAT exemption for at least 10 years to bring about significant change in the country's E-commerce sector.
Venture Capital policy formulation and implementation
BASIS has long been trying to introduce Venture Capital in Bangladesh and has been organizing conferences and seminars along with government officials in different countries of the world. As a result, Silicon Valley's leading VC Company Fenox Venture Capital announced $200 million dollar fund for Bangladesh. Moreover, Switzerland's Investment AB Kinnevik, Norway's SNT Classifieds, Rocket Internet and other renowned organizations are investing in Bangladesh's ICT sector. ICT Advisor Sajeeb Wazed Joy, Chairman of Securities and Exchange Commission Mr. Khairul Hossain and I, had a meeting. It was decided that a Venture Capital policy would be implemented by June. I expect that once the policy is implemented, it will facilitate and increase Venture Capital investment significantly.
Participation of IT companies in Share Market (IPO)
In the same meeting on the 10th of February, possibility of local IT firms entering the share market was also discussed. It was decided to form a 'Small Cap' in the Security Exchange Commission where ICT companies could join the share market with only a smaller capital and hence increase investment in their business. It was also decided to design a framework within June.
BASIS has long been working on the 5 policies that were highlighted in the Digital World 2015 and BASIS SoftExpo 2015. Once they are implemented, Bangladesh's ICT sector will be revolutionized and we will be able to achieve our vision of "One Bangladesh" which will lead to realize the vision of "Digital Bangladesh".
(This is the abridged form. The long form is available online. )
The writer is the President of Bangladesh Association of Software and Information Services (BASIS). He is also a General Partner of Fenox Venture Capital and the Managing Director of Akhoni.com Ltd.