Winter tax fair starts on a strong note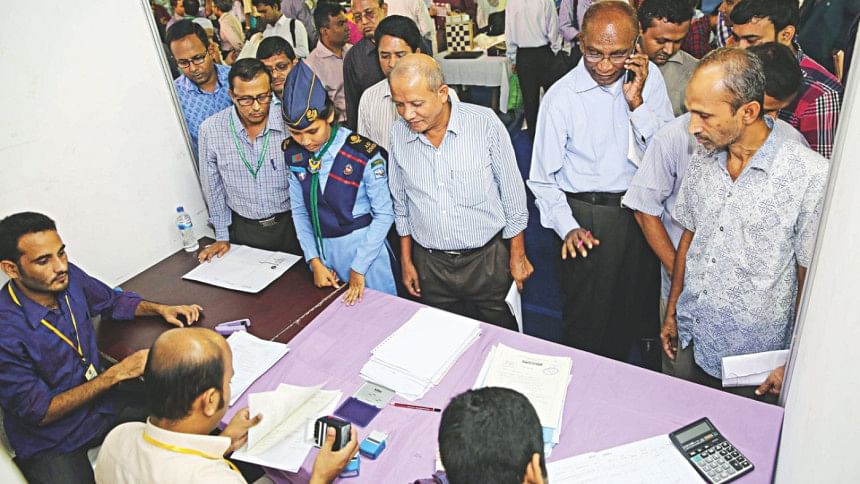 The first edition of the winter tax fair kicked off yesterday to a huge response from taxpayers, much to the delight of the National Board of Revenue, which is expecting the initiative to boost the returns submission tally for the year.
The three-day fair, which is being held at eight venues around the country, allows taxpayers to file returns and finish other tax-related tasks before the deadline expires on November 30.
Finance Minister AMA Muhith, who inaugurated the fair at the Officer's Club on Bailey Road in Dhaka yesterday, called for the introduction of a specific day in the year for taxpayers to file returns.
Many countries, including the US, follow this system, he said.
Subsequently, he asked the NBR to work towards it.
"Take your time. This can be launched in the next two to three years," he said, while urging the NBR to simplify the income tax return form such that the taxpayers can fill it up themselves.
The move to organise a separate tax fair in winter comes after the overwhelming participation of taxpayers at the annual show in September, which saw 7.57 lakh visitors and tax payment of Tk 2,035 crore, both records in the event's six-year history.
In Dhaka, the fair is also taking place at the office premises of Tax Zone 9 in Uttara. Outside of Dhaka, Chittagong, Barisal, Khulna, Rajshahi, Rangpur and Sylhet are hosting tax fairs from 10am to 5pm until November 21.
Taxpayers will be able to submit their returns for fiscal 2015-16 and get acknowledgement receipts on the spot.
Fresh taxpayers will also be able to sign up online for taxpayer identification numbers and those who still have the manually issued TINs will get assistance to re-register for e-TIN.
Bangladesh Cricket Board President Nazmul Hassan Papon suggested one-stop service to encourage people to pay tax.
At the programme, four non-resident Bangladeshis were also awarded with commercially important person (CIP) cards for their investments in US Dollar Premium Bonds and US Dollar Investment Bonds.