WB cautious on growth
Economic growth is projected to be 6.8pc this fiscal year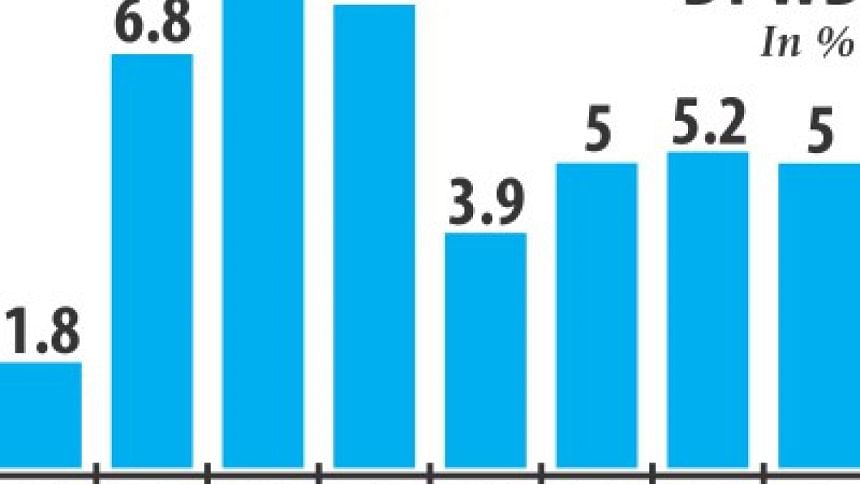 The World Bank has made a cautious growth projection of 6.8 percent for Bangladesh this year, which is lower than the government's projection of 7.2 percent.
In its latest Global Economic Prospects report released yesterday, the Washington-based multilateral lender said weak remittance inflows and subdued consumption are foreseen to weigh on Bangladesh's growth.
Growth is projected to edge down to 6.5 percent in fiscal 2017-18, but rebound to 6.7 percent in fiscal 2018-19 and 7 percent thereafter in the forecast horizon, supported by infrastructure spending and a pick-up in exports, according to the WB.
The government is ambitious about this fiscal year's gross domestic product growth, which is more than the budget target. "I said the current year is going well. What the planning commission has projected, a 7.5 percent growth rate, can probably be achieved this year," said Finance Minister AMA Muhith on Sunday.
The country hit 7 percent growth last year and the momentum has to be maintained. In fiscal 2015-16, Bangladesh's GDP growth stood at 7.11 percent.
"Growth in Bangladesh is projected at 6.8 percent in fiscal 2016-17, provided the downside risks with respect to exports and remittances in particular do not materialise," said Zahid Hussain, lead economist of the World Bank's Dhaka office.
An improved security situation is expected to attract private investment and foreign direct investment, the WB said.
The construction of Padma Bridge connecting the southwest region with the rest of the county and a liquefied natural gas terminal will alleviate infrastructure and energy bottlenecks in the medium-term.
However, Bangladesh's high recurring expenditures and a stagnant revenue-to-GDP ratio will likely pose obstacles for the funding of needed infrastructure development. Based on the outturns in the first half of fiscal 2016-17, the risks appear to be turning real, Hussain said.
Export growth is down to 4.4 percent, while the remittance decline has widened to 17.8 percent in the first of fiscal 2016-17.
Achieving the 8 percent export growth target in fiscal 2016-17 would require over 11 percent export growth year-on-year in the last half of the year. 
"This will be tough given the internal structural constraints and external uncertainties," Hussain said.
It is expected that the remittance impact of the large number of outmigration from Bangladesh in fiscal 2015-16 will start happening a few months from now, helping stem the precipitous decline experienced recently. 
"What would be most helpful is to address the weaknesses in the financial sector on an urgent basis so that good investment projects get funding on competitive terms while bad projects are rationed out," Hussain said.
This will help unlock the latent private investment demand within a short time and thereby contribute to achieving 6.8 percent or more growth this year.
In South Asia, regional growth is expected to pick up modestly to 7.1 percent in 2017 with continued support from strong growth in India. India will grow by 7.6 percent, Pakistan 5.2 percent and Sri Lanka 5 percent.
Excluding India, growth is expected to edge up to 5.5 percent in 2017, lifted by robust private and public consumption, infrastructure investment, and a rebound in private investment, according to the WB report.
"There is some cautious optimism with respect to the prospects for recovery in global growth from 2.3 percent in 2016 to 2.7 percent because of improvements in emerging markets and developing economies," Hussain added.