MFS providers in a costly battle for supremacy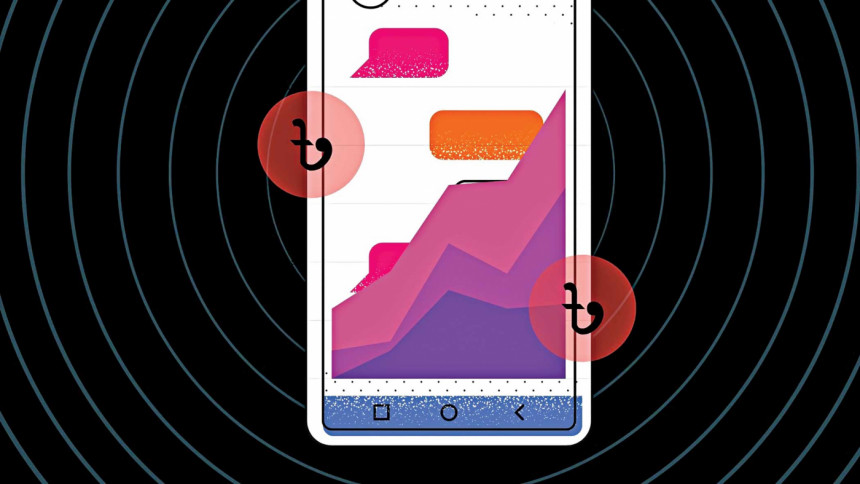 Mobile financial service (MFS) providing companies are spending big in the form of cashbacks on purchases made during the ongoing Eid sales season as they are fighting a costly battle for digital payment supremacy in the country.
For instance, even two weeks before Ramadan, a customer of clothing brand Sara Lifestyle came across a 20 per cent cashback offer for payments through MFS provider Trust Axiata pay (tap).
And since the beginning of Ramadan, bKash and Nagad, the country's top two MFS providers, offered the same percentage of cashback for payments to Sara Lifestyle.
However, there is a limit on how much cashback a customer can avail.
For example, a tap customer can get up to Tk 600 while Nagad and bKash costumers get Tk 500 and Tk 200 respectively, according to an official of the lifestyle brand.
About 50 per cent of the cashback is borne by the store while the rest 50 per cent comes from the MFS operator being used.
"It's a win-win situation…we both can attract customers with such offers. But the ultimate winners are the customers," said the official.
Industry insiders said the battle between digital payment providers was still centred on customer acquisition as such services are set to rule the roost of the future payment systems.
According to global data firm Statista, the total transaction value in the digital payments segment is projected to reach $9.48 billion by the end of 2022 and $17.86 billion by 2026.
During this Eid, the top MFS providers are giving cashbacks ranging from 5 per cent to 40 per cent for payments through their platforms to various lifestyle brands, retail shops, super shops, restaurants, and online marketplaces, such as F-commerce.
Now bKash has brought cashback offers of up to 20 per cent at around 10,000 retail outlets and Nagad up to 35 per cent cashback or discounts at more than 4,000 outlets. The tap is also providing such discounts at hundreds of shops.
The cashback or discount battle for customer acquisition intensified ever since Nagad entered the market in 2018, and platforms are burning huge amounts of money in the process.
For example, bKash was profitable from 2014 to 2018 but has continuously made losses since 2019, when Nagad entered the market.
Shamsuddin Haider Dalim, head of corporate communications at bKash, said the company's main purpose of offering discounts and cashbacks, including those during festive seasons, was to encourage customers to pay digitally.
He went on to say that bKash offers discounts and cashbacks as part of its campaign to augment digital literacy and awareness.
Dewan Nazmul Hasan, chief executive officer of tap, said they were trying to establish digital payments as a service than can help turn Bangladesh into a truly "cashless" society as per the national goal.
"If our customers find the benefit of using their e-wallet in day-to-day transactions, then merchants, transport services and so on will also accept digital money as payment, which will develop the total cashless ecosystem," Hasan added.
Muhammad Zahidul Islam, head of communications at Nagad, said the digital payment market was at a stage of growth where incentives were necessary to bring more users into digital payment platforms.
"We want to popularise Nagad's digital payments and retain our customers by offering discounts and cashbacks," he added.
However, Rocket, the country's third-largest MFS provider which is owned by Dutch-Bangla Bank, does not give such offers very often.
An official of the bank earlier this year told this reporter that they do not subsidise Rocket and only invest in the MFS provider from their annual profits.
Although bKash, Nagad and tap say they bear no more than 50 per cent of these discounts, analysts think it costs them a lot.
"The cost of customer acquisition is very high for MFS providers and will make their sustainability a challenge," said Ahsan H Mansur, executive director of Policy Research Institute (PRI).
The largest MFS provider in Bangladesh, bKash, has been receiving strong backing from global investors. The company received investments from World Bank's International Finance Corporation in 2013, the Bill & Melinda Gates Foundation in 2014, and Jack Ma's Ant Group in 2018.
It also secured the backing of SoftBank Group's Vision Fund as visionary venture capitalist Masayoshi Son's SoftBank took a 20 stake with $250 million.
Brac Bank, one of top local banks, holds the majority of the stakes of bKash.
The tap also has a strong backing of Trust Bank and Axiata Digital Services Sdn Bhd, Malaysia, which owns Robi, the second-largest mobile network operator in Bangladesh.
Nagad, which runs itself as a wing of the postal division and conducts operations on the basis of an interim licence from Bangladesh Bank, has no such financial backing from any conglomerate.
"Nagad's owners invested heavily in it as such a digital start-up has high potential. The market value of Nagad has now become larger than the investment," said an official of the company.
PRI Executive Director Mansur said every MFS provider should be regulated strongly or else the government would have to bear the responsibility of compensating customers if any company defaults.
"If an MFS company collapses after so much investment, the downfall would be a mammoth one," he added.