Sunflower acreage goes up on rising profits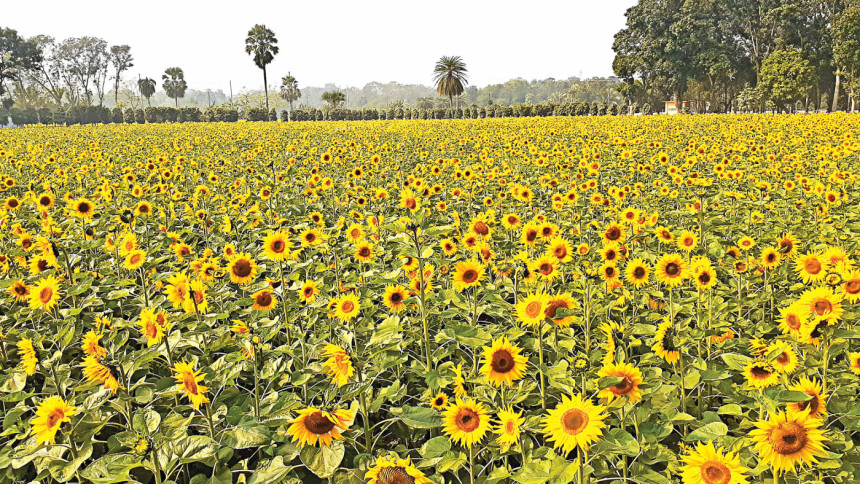 Glee has spread around homesteads of sunflower farmers as they are expecting to make a good profit thanks to a bumper yield this year.
Harvests are expected to be much higher year-on-year for the prevalence of favourable weather conditions, according to the Department of Agricultural Extension (DAE) officials.
Farmers are being encouraged to take up its cultivation as it is possible year round everywhere, including coastal, haor and Barind Tracts while demand is growing increasingly for oil from the seeds for its health benefits.
This year sunflower has been cultivated on 15,403 hectares of land across the country, which is three times higher than the target, said DAE Director General Md Asadullah.
Moreover, this year's target was set 87 per cent higher year-on-year encompassing 46 districts.
In terms of seeds, 11,628 metric tonnes were initially targeted to be produced whereas now the revised expectation was 32,500 metric tonnes, which is 5.6 times higher than that produced last year.
Last year's seed production was almost double that of fiscal 2018-19's 0.03 lakh metric tonnes.
This year, Patuakhali has the highest amount of land being cultivated, in figures specifically 3,263 hectares.
The two most popular varieties are Haisan-33 and RDS-265.
"Sunflower cultivation is increasing day by day for our promotional activities and incentives such as free seeds and training under different projects," said Asadullah.
Sunflower oil contains fatty acids and vitamin E. "It is much better in quality as an edible oil. We are encouraging people to grow the habit of consuming this oil," he said.
Meanwhile, about 90 per cent of Bangladesh's demand for edible oil is met through imports as locally produced varieties are not up to the mark.
Bangladesh annually imports edible oil worth Tk 6,600 crore with a projected growth rate of 3.95 per cent while the average per capita consumption stands at 1.3 kilogrammes (kg).
However, sunflower seeds account for around 40 per cent of the locally produced edible oil.
According to farmers and local millers, four litres of sunflower oil can be derived from 10 kg of seeds. Including the processing costs, the price per litre of local sunflower oil comes to around Tk 150.
However, a litre of imported sunflower oil costs around Tk 200 per litre while it will be sold at retail markets at Tk 250, according to importers and retailers.
Meanwhile, sunflower seeds are being sold for between Tk 80 and Tk 100 per kg this year, said multiple farmers.
There are no complications regarding the marketing of sunflower oilseeds right now and many people, who are producing oil locally and commercially by setting up factories, are buying the seeds from the farmers, said the DAE director.
So farmers are getting a good price, which will help boost sunflower cultivation further, he said.
Sunflower is one of the less water-consuming crops. So farmers of the dry Barind Tracts can benefit from cultivating it, according to agriculturists.
Due to the adverse effects of climate change, agricultural lands on the southwest coast are turning highly saline, allowing cultivation of solely aman paddy.
But now sunflower is being cultivated there right after aman harvests, creating new possibilities.
"We have already started to cultivate sunflower in saltwater. Sunflower is especially being cultivated in Patuakhali and Barisal belts," Asadullah said.
Sunflower plants are also useful below the ground as they help to naturally aerate the soil with their strong roots that penetrate and break up heavy clumps, enabling rainwater to trickle down more deeply, according to researchers.
The plants also grow tall, for which its shade suppresses weed growth, they said.