'Install pre-paid metres in residential areas to save gas for future'
Experts say at DCCI webinar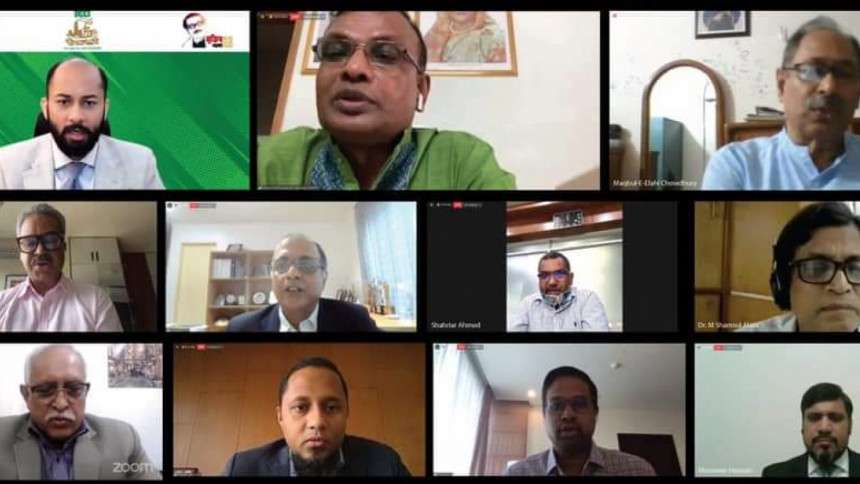 There is no alternative to installing pre-paid metres in residential areas to stop illegal gas connection and save energy for future, experts said at a virtual webinar today.
They also stressed the need to go for extensive exploration for natural gas to ensure cost-effective energy supply in the industries in the days to come.
They made the call at the event on the "Future of industrial fuel source in Bangladesh: LPG and LNG" organised by the Dhaka Chamber of Commerce and Industry (DCCI). 
"Domestic connections use only 15.21 per cent of the country's total demand. Most of them give Tk 975 a month as gas bill, but they do not use that amount of gas," said Kohondkar Saleque Sufi, director of Global Consultant and Educational (Aust) Pty Ltd, in his keynote presentation.
Titas Gas Distribution Company Ltd found in a survey that a residential burner uses 40-45 cubic metres of gas on an average, the consumer pays for 77 cubic metres, said Sufi, who is also a former director of Gas Transmission Company Ltd.
Prepaid metre users pay a bill of Tk 400-500 per month whereas non-metre users pay Tk 975 a month, he said, adding that a cycle is making profits by supplying the excess gas.
He also called for an investigation into why the distribution companies are so reluctant to install pre-paid metres despite the devices being so popular at the residential stage.
Anisur Rahman, senior secretary of the Energy and Mineral Resources Division; Md Maqbul-E-Elahi Chowdhury, member (gas) of Bangladesh Energy Regulatory Commission; Rizwan Rahman, president of DCCI, and Faruque Hassan, president of Bangladesh Garment Manufacturers and Exporters Association, also spoke.