Boro farmers' hopes dashed by nor'wester, heat wave
Over 46,971 hectares of paddy damaged in 7 districts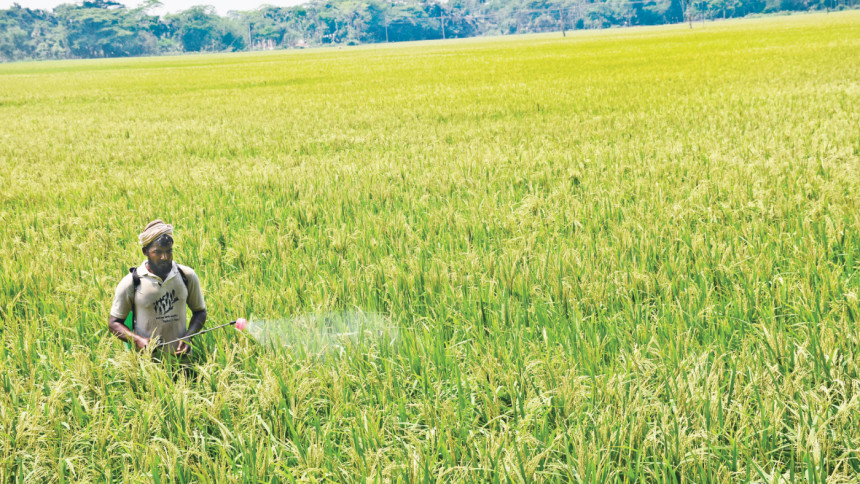 The nor'wester and accompanying heat wave that swept over the country on Sunday massively damaged Boro paddy in both plain and haor areas of at least seven districts in northeast and southern divisions, dampening hope for increased production of rice and decline in prices to ease pressure on low income people's budget.
This year, farmers cultivated Boro paddy on 48.83 lakh hectors of land, 3 per cent higher year-on-year, with agricultural officials expecting higher crop this harvesting season at a time when prices of the staple grain were higher.
In March, consumers in Dhaka had to count 27 per cent higher prices from that a year ago to buy one kilogramme of coarse rice at Tk 45, showed data from the Food and Agriculture Organization (FAO).
The FAO in its prices warnings report in March linked the price spike to tight market availabilities, stagnant production for the three consecutive years, limited imports and strong demand amid the Covid-19 pandemic.
The latest heat wave and storm-related crop damage is not only likely to have an impact on the rice prices but also shattered dreams of having a good crop. 
Boro paddy on 47,000 hectares has been affected in Kishoreganj, Netrakona, Mymensingh, Sunamgnaj, Moulvibazar, Barishal and Patuakhali, according to primary estimates of regional offices of the Department of Agricultural Extension (DAE).
A late variety of BRRI-29 and some other varieties of paddy which were at the flowering stage mostly bore the brunt of the gusty heat wave, said the DAE officials.
Agriculturists and food experts said the extent of damage might seriously impact food security during the coronavirus pandemic as Boro paddy contributes more than half of the total rice production in Bangladesh.
As per the estimate of the DAE, usually around four tonnes of rice is produced from every hectare of paddy. From such approximation, around 187,884 tonnes of rice could be produced from 46,971 hectares of affected paddy.
This year, the government targeted to ensure production of 2.05 crore tonnes of rice.
Md Asadullah, director of the field services wing of the DAE, told The Daily Star that around 14,000 to 15,000 hectares of paddy might have been completely destroyed.
Besides paddy production might decrease by 20 to 50 per cent in the affected paddy fields, he said after visiting the affected areas in Netrakona and Kishoreganj recently.
"The targets we have achieved this year, even if the damage is higher, it will not have much impact nationally," he added.
"We experienced unbearable heat on that night and the next day. We saw most of our paddy getting destroyed due to the heat. We've never experienced such disaster," said Ali Hossain, a farmer of Nachni village in Sunamganj.
Like Hossain, multiple farmers of the affected districts said their paddy was burnt, sheaves were dried out and destroyed after the unusual heat wave carried by the nor'wester.
Tahmid Hossain Ansari, principal scientific officer of plant pathology division of Bangladesh Rice Research Institute (BRRI), said, "That's no way 'Bacterial Panicle Blight', but heat wave."
The BRRI is investigating the matter and will publish a report soon, he told The Daily Star.
The gusty heat wave may have blown due to climatic conditions during the dry weather and the latent heat has increased in such a condition that could have likely burnt crops and tree leaves, said Samarendra Karmakar, former director of Bangladesh Meteorological Department (BMD) and SAARC meteorological department.
In Kishoreganj, the heat storm wave took a serious toll on Boro paddy at haor areas.
Around 25,000 hectares of paddy, out of a total of 166,000 hectares, were affected, Md Saiful Alam, deputy director of the DAE, told The Daily Star's Mymensingh correspondent.
Kishoreganj Sadar, Itna, Karimganj, Hossainpur and Tarail upazilas have been seriously affected, he said, adding that they were working on the field to assess the actual extent of damage on Boro paddy.
In Netrakona, around 14,420 hectares of paddy out of a total of 185,000 hectares were affected in different upazilas, including Barhatta and Khaliajury, said Md Habibur Rahman, deputy director of the DAE.
The damage in haor areas is comparatively low but it is serious in plain (non-haor) areas, he said.
"The heat gusty wind shattered our hope of getting crops. We have never experienced such extent of damage," said Rafiq Uddin, a 55-year-old farmer of Barhatta upazila.
In Mymensingh, 5,275 hectares of paddy, 2 per cent of the total cultivation, was affected at the flowering stage due to the wind, said Md Motiuzzaman, deputy director of the DAE.
The affected areas are Trishal, Gafargaon, Muktagacha, Phulbaria and Gouripur upazilas, he said.
In Sunamganj,parts of Derai, Shalla and Jamalganj upazilas were mostly affected.
Md Faridul Hassan, deputy director of the DAE in the district, told The Daily Star's Sylhet correspondent that they inspected the farmlands and confirmed that 180 hectares of paddy have been destroyed.
In Barishal, 2,096 hectares of land cultivating paddy were damaged in the nor'wester, which may result in less than 10,000 tonnes of paddy production, said Shiuli Rani, an official of the DAE.
Nripendra Nath Baroi, a farmer of Gournadi upazila, said the storm had damaged about one-third of his 1.5-acre paddy farm. There is no possibility of flowering as the paddy plants have been blown down flat on the ground by the strong wind, he said.
Kishore Kumar Biswas, senior assistant director of Lakutia Seed Multiply Production Farm under the BADC, said 37 tonnes of paddy seed on 25 acres out of a total of 60 acres of land were damaged due to the storm.
This could lead to a seed crisis at the farmer level, the BADC officials told The Daily Star's local correspondent.
In Patuakhali, paddy seeds on 60 acres, out of total 248 acres, were slightly damaged by the storm, said Sheikh Iqbal Ahmed, deputy director of Dashmina Seed Production Multiple Farm.
In Moulvibazar, many farmers in Kulaura upazila are worried as the paddy sheaves have dried up in Hakaluki haor due to what they are saying "blast disease", reports this newspaper's local correspondent.
Shafiq Mia, a farmer of Islamganj village, said around 50 per cent of his BRRI-58 land has been affected and the paddy was drying up.
Kazi Lutful Bari, deputy director of DAE, however, said the "blast disease" was at a very minimum level which would not affect the production target.
(The Daily Star correspondents Mintu Deshwara from Moulavibazar, Dwoha Chowdhury from Sylhet and Sushanta Ghosh from Barishal contributed to the story.)