Bangladesh: a tough place to be a woman entrepreneur
Bottom-ranked in Mastercard Index of Women Entrepreneurs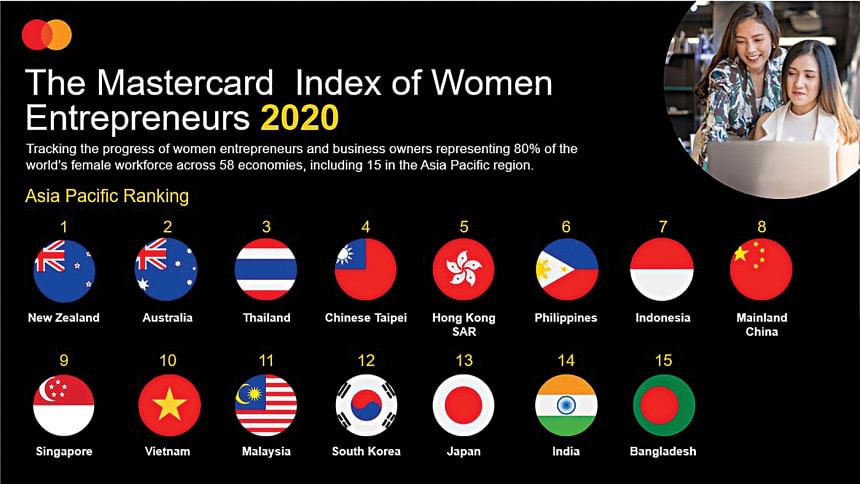 Bangladesh has bottom-ranked among 58 economies in the Mastercard Index of Women Entrepreneurs for 2020, meaning the country is among the toughest places for female business owners.
Although the country slipped one notch from last year's 57th, its overall score improved to 36.4 out of 100 from 35.4 a year ago.
Economies such as Tunisia, Saudi Arabia, and Turkey have weaker scores of 40 to 50. Bangladesh, Algeria, and Egypt have also exceptionally low scores of 30 to 40 points, said the report, which was released yesterday.
"In these economies, women continue to be held back by deeply rooted socio-cultural as well as economic and financial constraints such as lack of work opportunities, government support, and access to funding and capital."
The index provides an analysis of how women in business are progressing globally, highlighting the socioeconomic factors propelling and inhibiting their success, and providing a performance ranking for the 58 economies measured.
Drawing on data sources from leading academic institutions, including International Labour Organisation, the World Bank, the Unesco, the World Economic Forum, the Inter-Parliamentary Union and the OECD, the index assesses the working environments of the economies, representing almost 80 per cent of the world's female labour force.
The ranking is based on an analysis across 12 indicators and 25 sub-indicators spanning advancement outcomes, knowledge assets and financial access, and supporting entrepreneurial conditions, according to a press release from Mastercard, a global technology company in the payments industry.
The index ranked two countries from South Asia: India and Bangladesh. India advanced three notches to 49th with a score of 50.99 points.
Bangladesh ranked 57th among the economies in the Women's Advancement Outcomes component, just ahead of Algeria.
The component is a proxy of women's progress and degree of marginalisation economically and professionally as business leaders, professionals, entrepreneurs and labour force participant.
The report said across regions, women's representation in the business and economic landscape remains low compared to men, especially in terms of business leadership.
This persistent discrepancy is most acute in Japan, South Korea, India, Bangladesh, Saudi Arabia, Algeria, Egypt, Tunisia, Malawi, and Turkey where there are only around 6 to 15 females business leaders for every 100 leaders.
In economies such as Saudi Arabia, Egypt, India and Bangladesh, women's progress as skilled professionals and participation in the labour force tends to trail that of global peers. Here, female professionals make up only around 30 per cent of all professions, while the female to male ratio in the workforce is discouragingly low at about 3 to 10.
Bangladesh secured the last position in the component B: Knowledge Assets & Financial Access, which is a measure of women's progress and the degree of marginalisation they face commercially as financial customers and academically in terms of access to tertiary education enrolment.
It gauges women's inclination to borrow or save for business purposes, and how much support is rendered for SMEs in terms of availability of government support and underlying infrastructure.
Bangladesh was placed at the 55th position in the Component C, which is a measure of entrepreneurial conditions as enablers or constraints of female ability to progress and thrive as business owners. It also measures the socio-cultural conditions in each region as a driver or inhibitor of female entrepreneurship.
Bangladesh is ahead of only Ethiopia, Angola and Iran in the component.
This year's MIWE results point to slow progress in women business leadership, especially in the Middle East and Africa region. In Japan, South Korea, Turkey, Iran, Tunisia, India and Bangladesh, women account for between 10 per cent and 20 per cent of total business leaders.
In Angola, Ghana, Nigeria, Malawi, India and Bangladesh, there are markedly fewer opportunities for women to progress professionally, as skilled workers, and assume business leadership positions compared to their peers in other regions. They are also more constrained by the lack of developed physical infrastructure and government programs to support their business undertakings, the report said.
The women business owners (female owners as a percentage of total business owners) is the benchmark indicator of the MIWE.
At 4.5 per cent, Bangladesh has one of the lowest women business owners as a percentage of total business owners, only ahead of Egypt and Saudi Arabia out of 58 economies.
One positive takeaway from the report for Bangladesh is only 20 per cent women-headed and 40 per cent men-headed businesses are involved in the highly impacted sectors because of the pandemic. The ratio is the lowest among the women-headed businesses among the economies covered.
Women across the world have been disproportionally impacted by the Covid-19 pandemic – a staggering 87 per cent of women business owners say they have been adversely affected, the report said. 
The MIWE 2020's top-performing economy is a prime example of gender-specific support mechanisms having swift and significant results, the report said.
For the first time, Israel tops the MIWE as the best economy for women entrepreneurs worldwide, advancing from 4th place in 2019.
New Zealand, Australia, Thailand, Chinese Taipei, Hong Kong SAR, Philippines and Indonesia make the list of the top 20 economies globally offering the most supportive entrepreneurial conditions for women.
"What the findings make clear is that regardless of an economy's wealth, level of development, size, and geographic location, gender inequalities continue to persist – even pre-pandemic," said Julienne Loh, executive vice-president for enterprise partnerships of Mastercard Asia Pacific, in a statement.
What the Covid-19 did is that it exacerbated an already problematic situation. It disproportionately disrupted women's lives and livelihoods to a greater extent than men due to a few pre-existing factors: the jobs and sectors women tend to work in, childcare and domestic responsibilities and the pre-existing gender disparity in business.
"Yet, through the pandemic, we've seen women's strength and endurance in the face of adversity. If anything, this year has illuminated how vast women's potential really is."
But this moment in time is fragile unless governments, financial services and business organisations come together to do three things: offer systemic support and programmes to enable women to survive and thrive in this new normal, equip them with skills to navigate the digital world and nurture an equitable, accessible financial services system that supports women's work and entrepreneurship.
"These are not easy to deliver, but investments like these can yield priceless dividends for not only women but society as a whole," Loh said.