Asian University for Women, BGMEA team up for higher studies of female RMG workers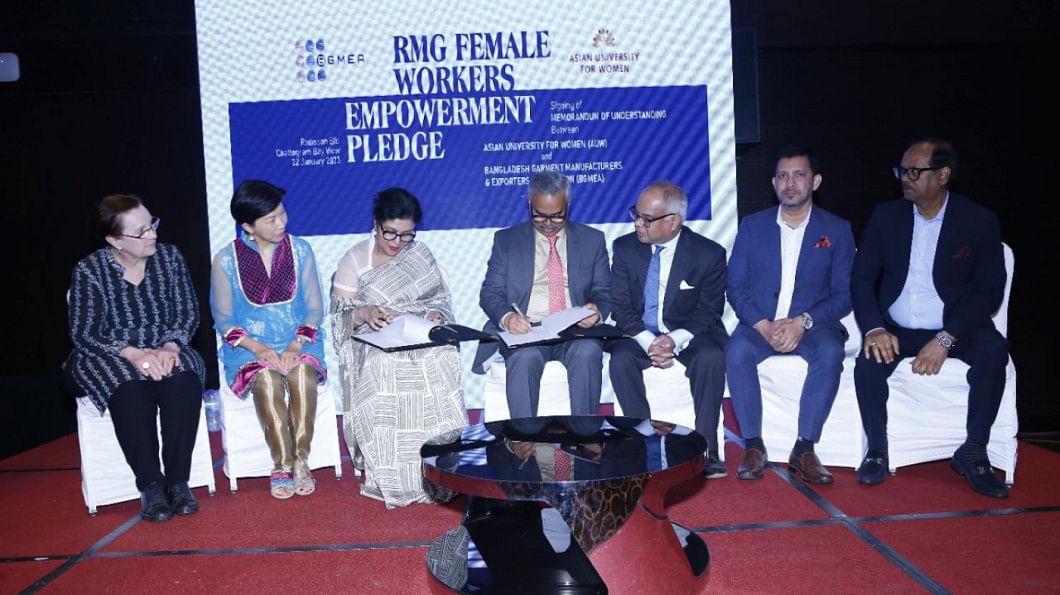 The Bangladesh Garment Manufacturers and Exporters Association (BGMEA) and the Asian University for Women (AUW) entered into a new partnership to pave the way for female garment workers in Bangladesh to fulfill their dreams of higher studies.
The BGMEA and the university will collaborate to expand, enhance and promote the education, leadership and empowerment of female garment workers in Bangladesh.
BGMEA President Faruque Hassan and Vice Chancellor of AUW Rubana Huq inked a memorandum of understanding (MoU) on behalf of their respective sides at a hotel in Chattogram today.
The collaboration aims to create opportunity for more female workers from Bangladesh's garment factories to study higher education at AUW free of cost with support from their respective employers, the BGMEA said in a statement.
Under the new partnership, the BGMEA will cooperate with AUW to facilitate enrolment of 500 qualified females working in RMG factories in Bangladesh in AUW's five-year university education "Pathways for Promise" programme.
Pathways for Promise, an initiative within the AUW and BGMEA, provides free education to talented women from among Bangladeshi garment factory workers.
Already over 90 girls, who are RMG workers, are studying at AUW.