New NBR chief against harsh steps in tax collection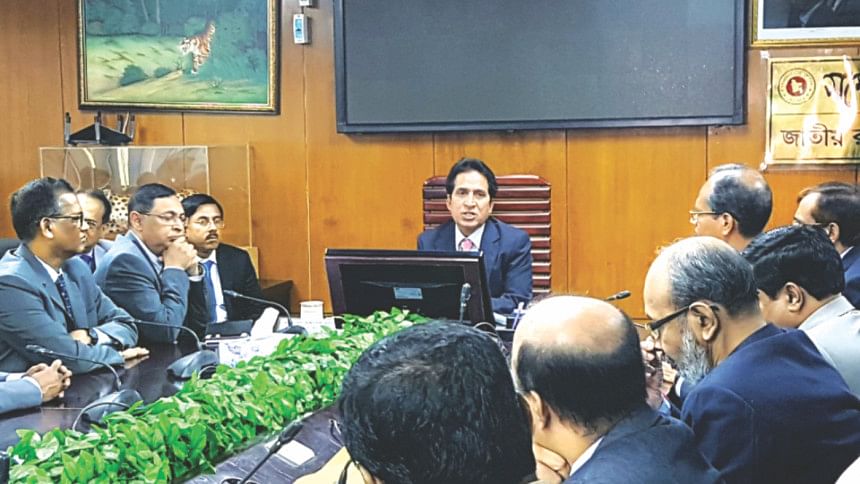 The revenue authority will take a soft approach to collecting taxes, focusing on expediting trade, investment and economic activities, said its new chairman yesterday.
"Collecting tax in a harsh manner is not effective. We have to collect revenue in a way that economic activities, investment and livelihood do not get affected," said Md Mosharraf Hossain Bhuiyan.
He made the remark at his first meeting with taxmen on taking charge of the National Board of Revenue and the Internal Resources Division under the finance ministry.
The government appointed the former senior secretary on January 3 for two years after transferring the immediate past chairman Md Nojibur Rahman to the Prime Minister's Office as principal secretary to the prime minister.
Bhuiyan retired last year as a senior secretary to the industries ministry.
He said the role of domestic revenue collection has become important in financing the annual budget as the flow of foreign aid was declining.
But revenue should be collected in a just manner by maintaining a friendly relation with businesses, he said.
"Our attitude will not be to extract from businesses. We will realise the government's revenue in a fair manner," he said. Some have come up with a suggestion to examine whether every tenant or owner of apartments has a tax file, he said, adding that the move may help bring in a large amount of revenue.
"We know many top businessmen and we are amazed at their image and influence. But when it comes to paying taxes, they are not the highest taxpayers," said Bhuiyan.
"We have to sit with them and let them know that we want to honour them," he said.
He gave an example that one of his relatives became a top taxpayer of a district although that person was not the richest man in that town.
He said he has good relations with businessmen for having served as a senior secretary of the industries ministry prior to his new assignment.
Some of the entrepreneurs wanted the NBR to create scope for increasing trade and investment, he said.
"We all have to keep in mind that tax collection will depend on the volume of trade and economic activities."
Bhuiyan said he would carry on the initiatives taken by his predecessors and called upon taxmen to be honest. "You will get rewards for honesty."