New incentives on way to boost exports to $37b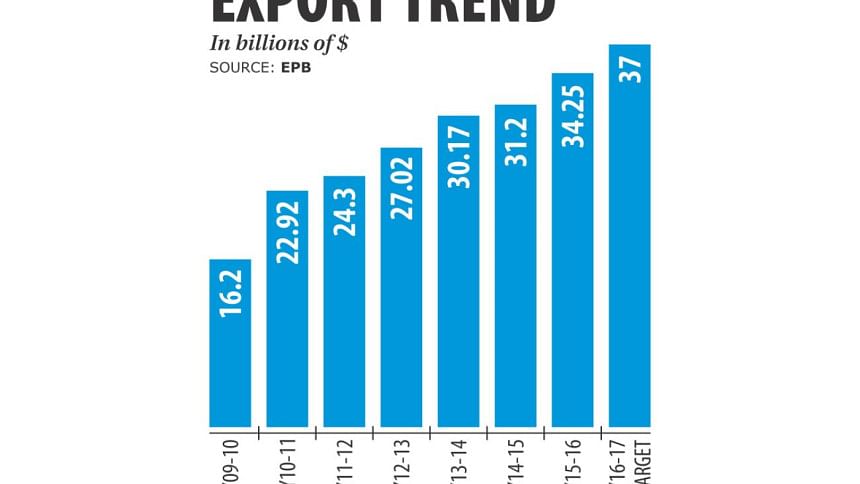 The government is set to bring in major changes to the incentive structure for exports to achieve the higher growth target set for this fiscal year.
The export target for fiscal 2016-17 is $37 billion, up 8 percent from last fiscal year's receipts.
The new incentive structure will be announced in a couple of days, according to a finance ministry official.
The development comes after a meeting between officials of the finance and commerce ministries on August 8. 
Finance Minister AMA Muhith chaired the meeting, which was attended by Commerce Minister Tofail Ahmed.
In the new structure, a 5 percent incentive is likely to be extended for exports of finished leather if the tanneries at Hazaribagh relocate to Savar.
The existing 12.5 percent subsidy on leather goods export will continue.
Subsidy will be given to exports of two new commodities: paper and incense sticks.
A 5 percent incentive will be given for the export of locally produced paper, while the export of incense sticks will be provided with a 20 percent incentive.
To export frozen shrimp and other fishes, a maximum 10 percent incentive is given at present. It may be raised to 15 percent.
Shipbuilding is becoming an emerging industry in Bangladesh. In the light of the development, ship exporters, who now get 5 percent incentive, will get 10 percent.
Bone granule exporters now enjoy 5 percent incentive. Export of intestines may be given 10 percent incentive. Besides, light woollen goods may get 15 percent incentive.
In the current fiscal year, Tk 4,500 crore has been allocated for export subsidies, of which Tk 500 crore would go toward jute goods.
Various jute goods now get a maximum of 10 percent incentive on their export proceeds, which may be increased to 20 percent.
India is second in the world in textile exports, and by 2018, the country has targeted shipments amounting to $40 billion a year. For that end, the neighbouring country has extended a 25 percent incentive to textile exporters.
Following India's lead, the commerce ministry has now recommended increasing incentives to the textile sector as well.
Muhith is planning to hold a separate meeting with the commerce ministry on the issue, said the finance ministry official.
Some additional incentive may be given to the textiles industry if the products and markets are new.