SUPPLY-DEMAND MISMATCH OF DOLLAR
Imports to be costlier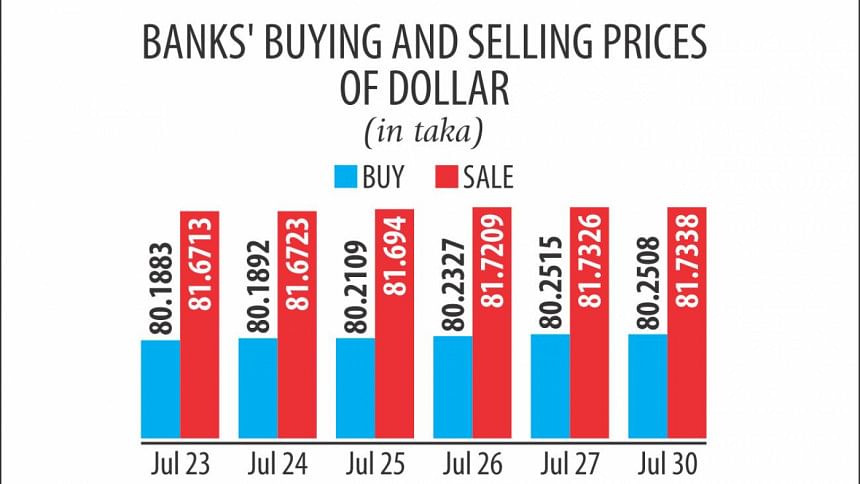 The gap between buying and selling rates for US dollar has recently widened to Tk 1.50 from Tk 1, in a development that has made imports costlier and can go on to create inflationary pressure and squeeze the foreign exchange reserves. 
For years, the gap has been Tk 1 a dollar as per the instruction of the central bank, according to data from the Bangladesh Bank and Bangladesh Foreign Exchange Dealers' Association.
"Basically, it's a supply-demand conundrum," said Anis A Khan, managing director of Mutual Trust Bank and a former chairman of BAFEDA, about the widening gap.
Exports and inward remittances, the two major sources of foreign currency in Bangladesh, are on the wane while imports are rising, widening the current account deficit.
"All these factors have led to the increase in demand for the greenback and the rising gap between the selling and buying prices," he said.
Remittance inflow in fiscal 2016-17, of $12.77 billion, was the lowest in six years. And for the first time in 15 years, Bangladesh's apparel exports failed to register even single digit growth.
The apparel export growth last fiscal year was just 0.20 percent. In contrast, in the last 10 years growth averaged about 13 percent.
On the contrary, import payments grew more than 9 percent last fiscal year.
"Still, the gap should not cross Tk 1," according to Nurul Amin, chairman of BAFEDA and managing director of Meghna Bank.
All banks though will not profit from the situation; only those with good reserves of the greenback will, he added.
Islami Bank Bangladesh that brings in more than one-fourth of remittance and handles a good sum of export receipts along with two foreign commercial banks may gain from the scenario, bankers said.
Banks provide foreign exchange services to their customers, including buying foreign currency from exporters and remitters and selling it on to importers. These transactions can be very profitable to banks when the gap between the buying and selling rate widens.
For example, if a bank buys $10 million from exporters at Tk 80.25 a dollar (yesterday's rate) and sells it on at Tk 81.73, it makes a profit of Tk 1.48 a dollar. The bank's gain will be nearly Tk 15 million (Tk 1.5 crore) from the arrangement.
Last year, banks bought dollars from exporters at Tk 78 at most and sold them at Tk 79. This means, in the last one year taka has depreciated nearly 3 percent.
Amid the mismatch between demand and supply, the BB is trying to cool down the exchange rate by injecting dollar in the market: it yesterday sold $20 million to banks.
"Market forces, such as demand and supply, determine the exchange rate," said Shafiqul Alam, managing director of Jamuna Bank.
Alam though believes no bank is playing in the foreign exchange market as there is huge competition to hook good clients.
The heat of the exchange rate was also felt in the kerb market, where a cash dollar sold at nearly Tk 84 yesterday.