Higher economic growth hinges on investments, skills
Says ADB's top official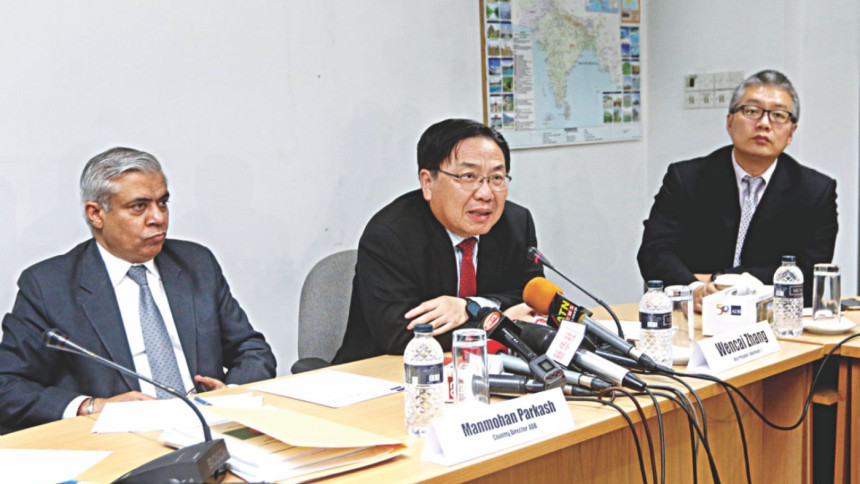 Bangladesh has to mobilise private investment and improve skills of the manpower to achieve its desired economic growth, Asian Development Bank's Vice President Wencai Zhang said yesterday.
Zhang said replying to a query on the country's strong economic growth in recent years while job creation remained slow.
He spoke at a press meet at the ADB's Dhaka office, to share his experience of attending the two-day Bangladesh Development Forum meeting that ended yesterday.
To achieve its target of 8 percent GDP growth by 2019, the country has to enhance its investments and develop skills, said the ADB official.
For employment generation, the government has to extend financial support to small and medium enterprises and micro enterprises in rural areas and increase private investment in infrastructure and power sectors in urban areas, Zhang advised.
There is room for improvement of business environment, governance, regulatory and legal framework in Bangladesh, he said.
The Manila-based donor will extend its support to the government's effort to establish economic zones, which is a great initiative to attract foreign direct investment, he said.
Bangladesh has a great potential as it has young population and favourable geographic location, he said. The country will have to improve regional cooperation to enjoy the intra-regional trade opportunities mostly in Asian countries, the official added.
Bangladesh has achieved a lot, but it still has to face many challenges to attain the sustainable development goals, he said.
One of the major challenges for the government is how it will mobilise the resources besides meeting the spiralling financial needs to achieve the SDGs, the official said.
Regional disparity, inequality, infrastructural gap between rural and urban areas and improvement of quality of education are among the challenges that the government will have to address to continue its high growth, he said.
The government will have to adopt policy on how it can do more inclusive growth, he said.
Climate change and disaster management are the other big issues for the Bangladesh, according to Zhang.
He advised the government diversify its economy by taking geographical advantage of the country to overcome the challenges.
A lot has to be done to improve the transportation system and traffic to make the Dhaka city liveable, he said.
"ADB is willing to extend support to the government in city development," he said.
ADB will expand lending to $8 billion during 2016-2020 from $5 billion in 2011-2015. The donor will continue to support Bangladesh's regional cooperation and integration efforts, particularly in electricity sharing with neighbours, transport and economic corridors.