Exports slide in Sep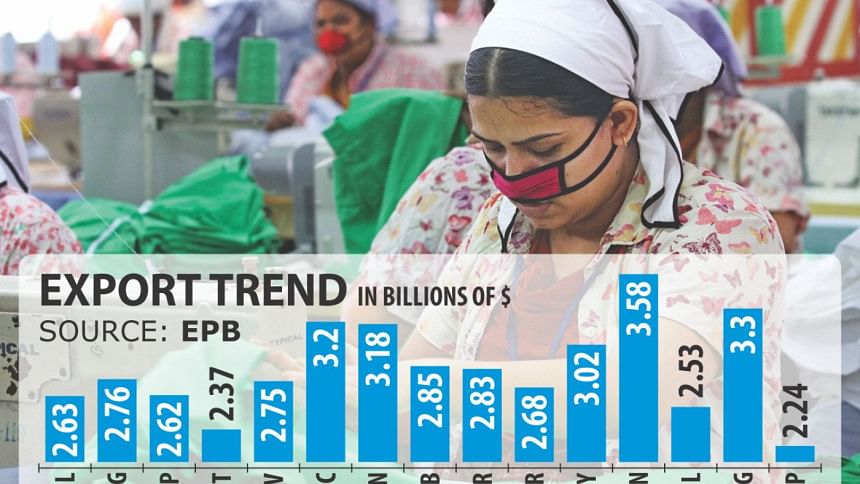 Export earnings in the month of September slid 5.63 percent year-on-year to $2.24 billion, due to a slowdown in garment exports, according to data from Export Promotion Bureau.
The earnings also missed the September target of $2.73 billion by 18.06 percent, data showed.
However, export earnings increased 4.12 percent to reach $8.08 billion in July-September, from the corresponding period of last year.
But the quarterly target of $8.95 billion was also missed by 9.69 percent, according to data.
"Export earnings from garment shipments declined because of a long break during Ramadan and Eid-ul-Fitr," said Siddiqur Rahman, president of Bangladesh Garment Manufacturers and Exporters Association.
"We could not produce goods for almost half the month and we hope exports will pick up from next month as the trend is good."
Earnings from garment shipments in the first quarter of the current fiscal year were counted at $6.67 billion, which is 3.52 percent higher from the same period of last fiscal year.
But here also, the export target of $7.34 billion was missed by 9.25 percent.
Leather and leather goods performed well in July-September, fetching $319.06 million, which is 16.69 percent higher than that in the same period last fiscal year.
Exports of leather and leather goods surpassed the periodic target of $294.98 million by 8.16 percent.
Earnings from footwear exports also increased 28.04 percent to $59.87 million during the July-September period.
Exports of frozen foods and live fishes rose 13.87 percent to $136.72 million.
However, exports of agricultural products declined 7.93 percent year-on-year to $122.29 million in the first quarter of the current fiscal year, mainly because of floods in major vegetable producing districts.
Flash floods damaged crops in many districts and farmers could not bring the vegetables to the markets to sell to the exporters, said businessmen.
Moreover, vegetable exports have also been affected by a ban on direct cargo flights from Dhaka to London, Berlin and Australia. Exports of jute and jute goods declined 0.99 percent to reach $204.51 million.
Home textile exports fell 2.53 percent to $156.44 million.