Walton makes strong comeback
Profits double in FY2021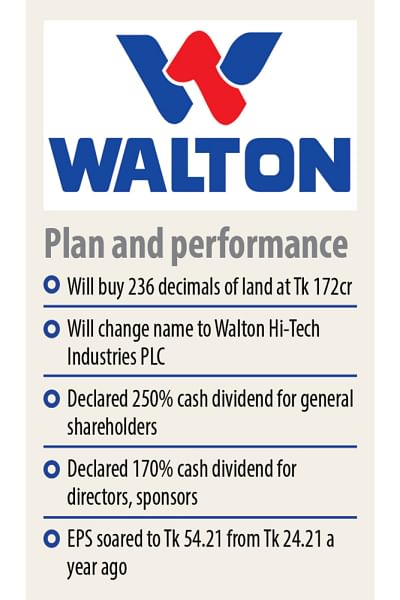 Walton Hi-tech Industries saw its profits double in the recently concluded 2020-21 financial year, riding on higher sales of air conditioners and refrigerators past an earnings decline for the pandemic.
One of the country's biggest electrical home appliance manufacturers, its profits rose 123 per cent to Tk 1,642 crore year-on-year.
Meanwhile, its earnings per share (EPS) rose near 124 per cent to Tk 54.21. In 2019-20 financial year it had dropped 47 per cent, according to data from the Dhaka Stock Exchange.
Based on the profit, it announced 250 per cent cash dividends for general public shareholders and 170 per cent cash dividend for directors and sponsors.
The pandemic hit the country mainly at the end of 2019-20 financial year and last year the company fared comparatively better, said Chief Financial Officer Omar Faruk Ripon.
Demand for products rose in early summer, particularly for air-conditioners, whereas refrigerator sales were also higher during the Eid season, he said.
Operating costs rose at a slower pace compared to sales, so the profit soared, he added.
Despite the high profits and dividend declarations, the stock price of the newly listed company dropped 3.87 per cent to Tk 1,417 yesterday.
Meanwhile, Walton has decided to buy 236 decimals of land for Tk 172 crore, excluding registration cost, at Bashundhara to erect "Iconic Tower" for housing the Walton Corporate Office.
If needed, the land will be used for other purposes too in the future, said Ripon.
Company Secretary Md Rafiqul Islam said the purchase would be financed by the company's own sources.
Moreover, Walton decided to change its name to Walton Hi-Tech Industries PLC in place of Walton Hi-Tech Industries.
Islam said the change would come about once the approval came from an annual general meeting.
The trailblazing homegrown electronics manufacturer raised Tk 100 crore in funds from the stock market in 2020.
The local electronics giant approved 200 per cent cash dividends for general investors and 75 per cent for directors and sponsors for the year ending on June 30, 2020.