Sunflower overtakes tobacco in Rangpur as farmers switch cash crops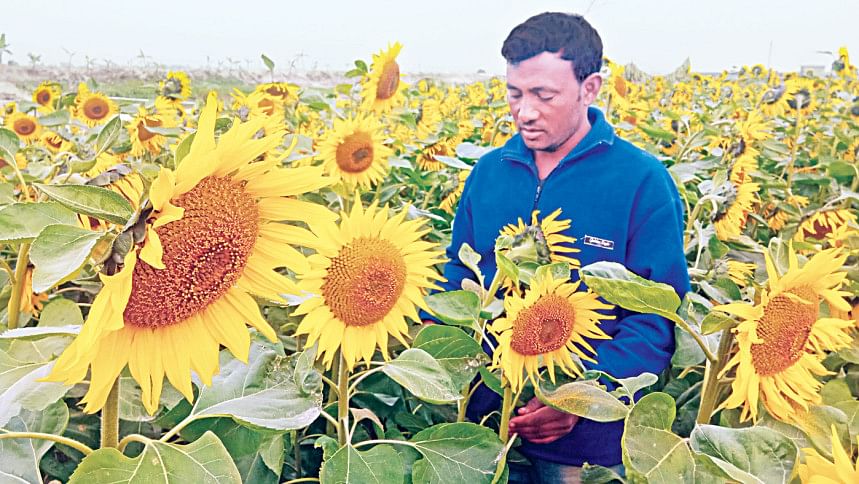 Sunflower cultivation in Rangpur is expanding as farmers in all eight upazilas in the district are opting for the oilseed crop considering its higher profitability compared to tobacco.
Tobacco had been one of the main cash crops in the northern district for decades due to its higher demand both at home and abroad. But since commercial sunflower farming began on a tiny piece of land in the region in 2018, the cultivation has increased manifold.
At least 140 hectares of land has been brought under sunflower cultivation in the eight upazilas this year, according to local officials of the Department of Agricultural Extension (DAE) in Rangpur.
As such, agricultural experts in the district are beginning to see the potential of sunflower cultivation as farmers are producing the crop on char land in the Teesta basin, especially the Gangachara and Kaunia upazilas.
Md Obaidur Rahman Mondal, deputy director of the DAE in Rangpur, says sunflowers are being grown all over Rangpur but the farming area is considerably higher in Taraganj upazila.
Just this year, five farmers of Gangachara left tobacco cultivation to grow sunflowers in the Teesta basin.
Anu Mia, a local farmer, previously grew tobacco and other crops such as maize and mustard plants on his leased land. Now, he cultivates sunflowers on four decimals of land along the sandy bed of the Teesta river in Mohipur village of Gangachara.
After witnessing Anu's healthy yields last year, other farmers started switching towards sunflower cultivation.
"I earned a profit of Tk 15,000 from sunflower cultivation last season," said Anu.
Sunflower cultivation requires fewer input costs such as labour. Besides, there is a higher domestic demand for sunflower seeds as they can be used to make edible oil as well as bird feed.
In contrast, traditional tobacco cultivation is back-breaking work as farmers need to spend most of their day working in the field, making muscle pain and fatigue common ailments among them, he added.
During a recent visit to Gangachara, this correspondent found a number of farmers cultivating sunflowers on about 15 decimals of land.
One of them, Shahin Hossain, said they all used to produce tobacco on their lands in the past. But they have dropped the crop to make way for sunflower cultivation this year.
Bilkis Begum, another farmer, has spent Tk 50,000 for seed, land, labour and other inputs to cultivate sunflowers. She hopes to make healthy profits.
DAE Deputy Director Mondal said his organisation has been encouraging farmers to cultivate sunflowers as the domestic demand for edible oil has increased in the last couple of years due to its multiple health benefits.
October 15 to November 15 is the optimum time to sow sunflowers, which can be harvested within 120 days of planting.
The DAE official went on to say that he spoke with a sunflower edible oil producing company in Dhaka that agreed to buy seeds from farmers in Rangpur and its surrounding districts.
Last year, farmers sold their produce at Tk 70 per kilogramme.
"We are expecting that farmers would get a similar rate this year," Mondal said, adding that tobacco cultivation in Rangpur has declined for various reasons.
Tobacco was farmed on 6,707 hectares of land in the district in 2008-09. The acreage has dropped to 1,855 hectares this year.
"The area could be even lesser in the coming years," Mondal added.
Farmers in other districts, including Nilphamari, Kurigram and Dinajpur, are also cultivating sunflowers.