Single hybrid farm changes face of Ishwardi upazila
Agriculture is a key sector of Bangladesh's economy but most people never dream of becoming a farmer as even those with the slightest education hope to make a living through other professions of more repute.
However, Sajahan Ali Badsha, a resident of Boktarpur village in Pabna's Ishwardi upazila, has broken the mould by first taking up the plough while studying for his Secondary School Certificate before going on to become an iconic farmer in the region.
Badsha started farming in the 1970s to bear his educational expenses and has received numerous medals since then, including the Agricultural Important Person award this year.
Badsha adopted hybrid farming as a means to attain success and as such, he mainly grows profitable crops alongside traditional varieties.
Upon advice from a relative, Badsha started cultivating a hybrid species of eggplant on 2.5 bighas of land in 1978, when he earned Tk 36,000 from his first harvest.
This initial success prompted him to continue farming alongside his regular academic work. Within the next 5-7 years, Badsha was farming multiple hybrid crops alongside paddy and jute.
"As I was getting profit, I leased some adjoining lands to increase cultivation," he said.
After completing his graduation in the 1980s, Badsha was already earning Tk 2-3 from each harvest.
Finding his fields to be profitable enough, he did not bother searching for other professions even after completing a masters and instead established the "Ma Moni Krishi Khamar" by leasing more land.
"Most farmers cultivated paddy and jute back in the 70s and 80s so I decided to try something different by growing hybrid varieties of eggplant, papaya, cauliflower, and other seasonal vegetables," Badsha added.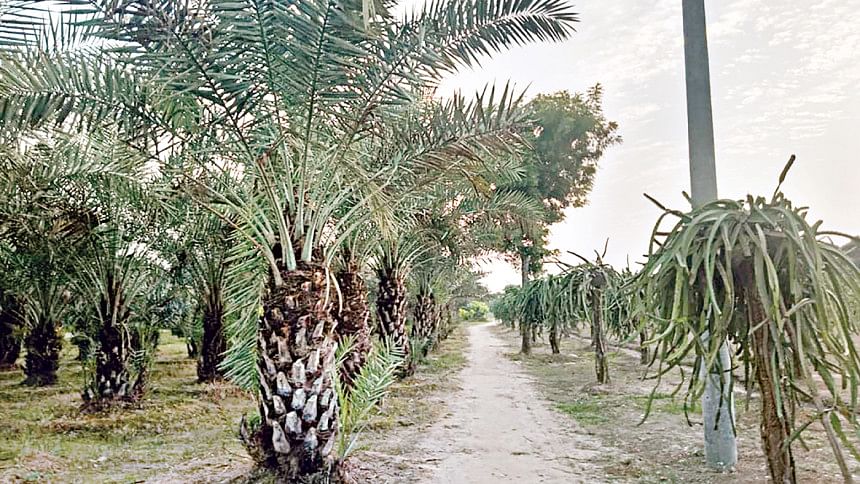 But of all his crops, it was papaya that brought him most success from the early 1990s.
"Papaya cultivation has brought both profit and fame in my life," the farmer said.
Badsha started farming hybrid papaya in his turmeric field as a co-crop but after seeing how remarkably profitable it was, he leased another 100 bighas of land to grow the fruit.
His success in papaya farming brought him a silver medal in the Bangabandhu Agriculture Award of 1997 while he eventually secured gold in the 1998 edition.
Considering the success, Badsha expanded papaya cultivation every year.
"The highest amount of papaya I had cultivated was 110 bighas in 1998," he said.
Just when everything was on the up and up, massive floods in 2004 destroyed his crops but that did not stop him from farming again.
"It was a huge loss but I planted vegetables and fruits again after the storms had passed," he added.
This year, Badsha has planted several prize worthy local and foreign fruits as well as vegetables and other traditional crops on about 63 acres.
He is growing custard apples on 12 acres at the Ma Moni Krishi Khamar while 8 acres are being used for farming litchi, 7 acres for papaya, 2 acres for avocado, 3 acres for mango, among other crops.
Badsha also regularly produces paddy, jute, spices and lentils.
"In my 50 years as a farmer, I realised profit cannot be earned from a single crop every year, he told The Daily Star.
Asked what advice he has for other farmers, Badsha said to go for cultivation in a planned way.
He has also done away with the use of middle men for selling his produce by opening his own outlet in Dhaka.
"When my agriculture work developed, I realised that profits from selling crops to traders in local markets were not sufficient. So, I took the initiative to open outlet in the capital," Badsha said.
As was the case with his farm, continued success allowed Badsha to expand the number of outlets, which supply wholesale shops with his own vehicles to reduce transportation costs.
As such, it goes without saying that Badsha has become an inspiration to others, especially those in his village.
"Badsha showed us how typical agricultural work can be profitable. I was inspired by him to cultivate turmeric in my 3-bigha litchi orchard to earn extra profit," said Mehedi Hasan, a farmer of Shahapur village of Ishwardi upazila.
Dr Saiful Alom, deputy director of Department of Agricultural Extension (DAE) in Pabna, said many people in the area now cultivate multiple crops.
Badsha has played a vital role in changing the entire scenario of agriculture in the region for the past three to four decades.
"Once upon a time, local farmers would only cultivate paddy, jute, lentils and other traditional crops. Now though, most of them grow vegetables and fruits items as well to earn more profit," Alom added.
Badsha was the first farmer in the district to become an Agricultural Important Person while there are now dozens with the award in the district.
In addition, there are 22 are nationally awarded farmers and 3 institutions in the region, turning Ishwardi upazila into one of the biggest agricultural hubs in the country.