Potato farmers lose Tk 2,500cr a year: FAO
Unsold surplus, post-harvest losses to blame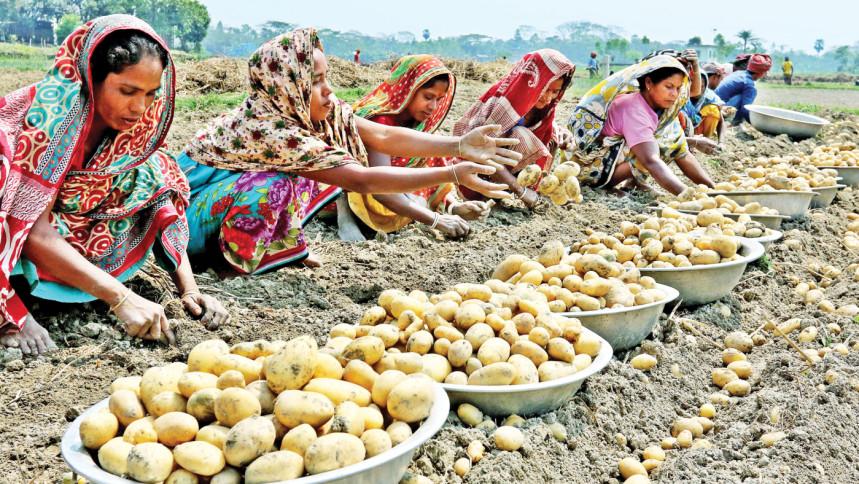 The yield is expected to be more than 11 million tonnes this year but domestic demand is only 7.7 million tonnes
Potato farmers in Bangladesh lose at least Tk 2,500 crore every year due to unsold surplus production and post-harvest losses.
The Food and Agriculture Organization of the United Nations (FAO) yesterday revealed the information in a press release quoting data from the Department of Agricultural Extension (DAE).
According to the DAE, more than 4.8 lakh hectares of land were brought under potato production this year.
The yield is expected to be more than 11 million tonnes but domestic demand for potatoes is only about 7.7 million tonnes, said the FAO.
"Of the surplus, only around a quarter can be stored for sale. Therefore, the loss of the farmers due to unsold surplus production and post-harvest losses is estimated at between Tk 25 billion to Tk 35 billion ($290 million to $400 million)," it said.
In order to prevent this significant loss, the government encourages potato exports, it added.
Aiming to reduce the losses, farmers inaugurated potato export at a ceremony at Pairabandh and Mithapukur upazilas in Rangpur recently, the FAO said in the press release.
The event was organised under a "Missing Middle Initiative" project jointly initiated by the FAO and Sara Bangla Krishak Society (SBKS), a national network of farmers' organisations.
Under the project, 100 farmers, including 50 women, were provided training on good agricultural practices (GAP). The farmers also received pre-production, inspection, and post-harvest assistance, according to the press release.
The FAO also organised a pre-season buyer-seller meeting for officials from Bangladesh Potato Exporters' Association (BPEA) to meet smallholder potato farmers.
Officials from the BPEA liaised with foreign buyers to get specifications and orders. As a result, the potato producers have grown 450 metric tonnes of Santana potato, a high-yielding Dutch commercial variety.
The producers were also able to procure seeds from the exporters at an affordable price. They also grew Diamant, Cardinal, Granola, and Asterix varieties which are in high demand in Malaysia, Nepal, Sri Lanka, and countries in the Middle East and North Africa.
Addressing the event, Robert D Simpson, FAO representative in Bangladesh, said, "In order to truly thrive, the potato export value chain requires a productive alliance among all involved—the government, private sector, and producer organisations."
"Bangladesh has a lot of potentials to grow commercial and export varieties of potatoes and we are working closely with the Ministry of Agriculture to boost potato exports in order to strengthen food security and increase incomes for farmers and farming communities," he said.
Agriculture Secretary Sayedul Islam, DAE Director General Benojir Alom, and private sector exporters and other government representatives joined the programme.