Pabna's Benarasi Palli being reclaimed by nature!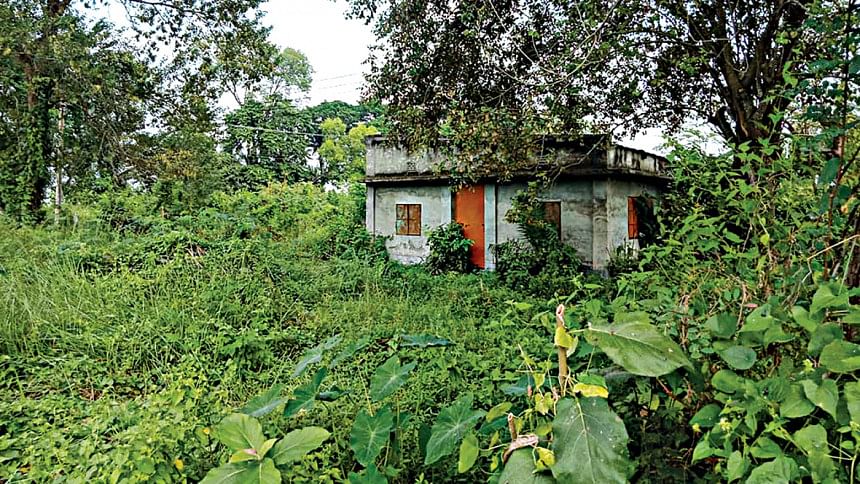 The Benarasi Palli in Pabna's Ishwardi upazila has remained inactive since its establishment in 2004 due to a serious lack of initiative among the authorities and weavers involved.
The specialised production zone was set up by Bangladesh Tant Board on 5.5 acres of land in a bid to keep the region's heritage of making Benarasi, Katan and other luxurious clothing items alive for the foreseeable future.
However, it has made little progress in this regard and is slowly being reclaimed by nature as most plots remain unused.
Some 90 plots were allotted to various weavers for building production units at the Ishwardi Benarasi Palli between 2004 and 2007 but only five are making use of their space as the rest lack enough funds to do so.
According to Bangladesh Tant Board, Benarasi weavers got five-decimal plots by paying Tk 4,200 as a down payment and Tk 650 as a monthly instalment for 20 years beginning in 2004.
Similarly, three-decimal plots were allotted for Tk 2,500 as down payment with Tk 390 monthly instalments for the same period.
In addition, only plot owners were allowed to establish factories in the commercial area in a bid to prevent them from subletting their allotments to other entrepreneurs.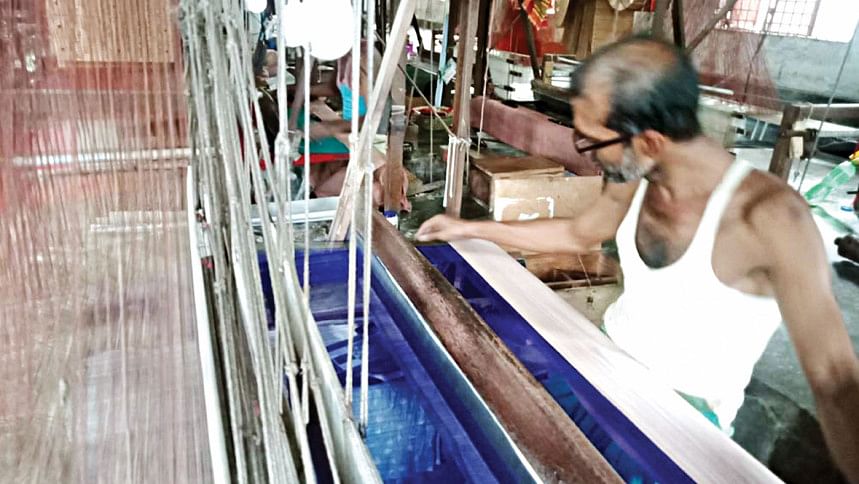 "Only five people have paid their instalments and established factories in the last 18 years," said Obaidur Rahman Jilani, a field supervisor of Bangladesh Tant Board and in-charge of Ishwardi Benarasi Palli.
As such, the board has decided to cancel the allotments of plots that have remained unused if the awardees fail to pay their dues and set up units by the time the project expires in 2024.
During a recent visit to the state-owned estate, this correspondent found that only two factories have been running in full swing while weeds and other plant life have covered the entire area due to a lack of maintenance.
"Bangladesh Tant Board has so far issued notices among 85 plot holders as of March this year, asking them to pay instalments and establish factories to avoid their allotments being cancelled," Obaidur added.
On the other hand, weavers claim that they have lost interest in investing in the Benarashi Palli due to a fund crisis resulting from poor business.
"Benarasi, Katan and other luxurious saris are made by handloom, but we are struggling to survive with our inherited business due to poor sales of these costly cloths as cheaper Indian cloths rule the market," said Jabed Benarashi, a one of the key Benarasi traders in Ishwardi upazila.
Besides, soaring raw material costs have cut the scope for making profits and so, weavers have no scope of investing more in the Benarasi Palli, he added.
Jabed's father, Abdul Mazid Benarasi, introduced Benarashi sari manufacturing in Ishwardi in early 1950 after coming from India.
Jabed has since inherited the factory at his house, where only 5 of 14 handlooms are being operated.
"I have a plot in the Benarasi Palli, but I do not have enough funds to establish a new factory considering the current situation," Jabed said.
Wakil Ahmed, president of the Ishwardi Poura Primary Weavers Association, said there are 196 listed weavers in the upazila that make Benarasi and Katan products.
There are more than 500 handlooms for producing such clothing items but only 200 to 250 are in use as many workers have left their inherited profession to ensure survival, he added.
Due to the lack of funds, many weavers are unable to run their looms at home, let alone go for investment in the Benarasi Palli.
"So, the government should provide financial support to help keep this heritage," Wakil said, citing how establishing a factory, engaging manpower and paying utility bills would be a huge burden for weavers.
Meanwhile, the two factories operating in the commercial zone are begin run by merchants who do not own the plots even though there is no scope to hand over allotments from one person to another.
"We established two factories in Ishwardi Benarashi Palli, where we have been operating 30 looms to produce 25 to 30 cloths a week," said Md Shariful Alom, manager of Zaman Textile in Sirajganj's Belkuchi upazila.
"All our products are supplied to Aarong but we do have not enough facilities in the state-owned commercial plot," he added.
Alom then said security is the main concern for them.
"When investing in the Benarashi Palli, we were told the commercial estate would be well protected and all processing factories would be established in the same venue so we would not need to go outside campus," Alom said.
However, not one processing plant has been set up at the estate while there is not a single security guard present either.
As a result, thieves cut the electricity wires while it becomes a den for drug peddlers at night. And due to the growing jungle, workers do not dare more freely in fear of snakes and wild insects.
"The lack of maintenance has made it risky to invest in the estate," he added.
In-charge of Benarashi Palli Obaidur said he is the only manpower of the office due to the lack of investment.
"But if weavers go for establishing factories, then a processing plant, security and other facilities will be ensured," he added.
Asked how the two factories have been operating without being owned by plot holders, he said nobody can sell their land or hand it over to another but have done so without official documents.